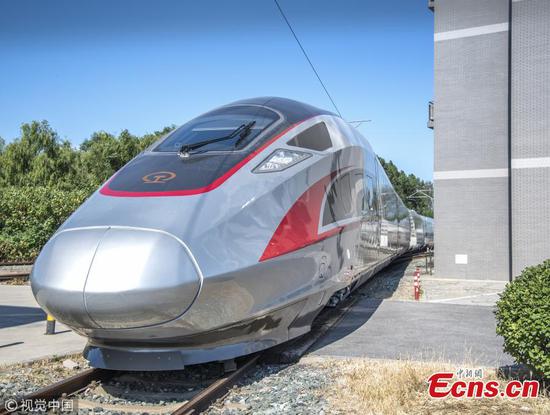 An extended version of the Fuxing bullet train at the China National Railway Test Center in Beijing. With a design speed of 350 kilometers per hour, the new train is 439.8 meters long with 17 carriages, which can carry 1,283 passengers. It will be put into use on the Beijing-Shanghai high-speed railway next year. (Photo/VCG)
(ECNS) -- China Railway Corp said on Wednesday that they are planning to apply the automatic train operation (ATO) system to high-speed trains on the Beijing-Zhangjiakou railway line, the world's first such application.
Lu Dongfu, general manager of China Railway Corp, said the application of ATO on Fuxing bullet trains, which run at speeds of 350 kilometers per hour, will mark a milestone in the history of train technology.
China's current fast trains are all driven by humans aided by the Chinese Train Control System (CTCS), sources at the China Academy of Railway Sciences told the Science and Technology Daily.
ATO will increasingly be used to replace human train drivers after its successful application in subway trains and two inter-city railway lines in the Pearl River Delta region, which run at a maximum speed of 200 kilometers per hour.
ATO was capable of carrying out all human driver operations, including startup, acceleration and deceleration, stopping, and train door opening.
According to experts, automated train driving can help ensure travel runs as scheduled, overcome variables created by human drivers, and improve transport capacity.
In 94 days from June to September last year, high-speed test trains on the Beijing-Shenyang line, traveling at maximum speeds of 350 kilometers per hour, completed a total of 186,397 kilometers using automatic driving.