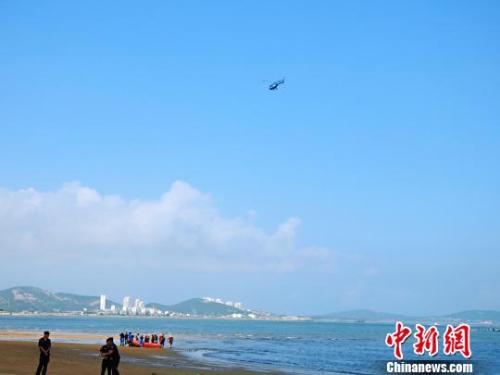 Rescuers search the missing twin girls at a beach in eastern Qingdao City, Shandong Province, Aug. 6, 2018. (Photo/China News Service)
(ECNS) - Twin girls from Beijing have drowned while playing at a beach in eastern Qingdao City, east China's Shandong Province, the Beijing News reported on Monday.
The beach has not been approved for swimming by local authorities.
The girls' mother, surnamed Chen, brought the eight-year-olds to visit the coastal city. She said her daughters were playing in the sand with other children on Sunday afternoon when they went missing in a matter of minutes as she was looking at her cellphone and updating social media app WeChat.
The anxious mother looked for the girls along the beach for more than an hour before calling police and also appealing for assistance on WeChat.
Local police and rescuers found two bodies about 150 meters from the shore the next day, after failed attempts to locate them on the land area.
Xu Gong'an, director of a local search and rescue organization, said undercurrents, silt and fishing nets made the beach, located just between an artificial island and the coast, dangerous, especially with the rise and fall of the tides.
The beach is not an approved site for swimming but many tourists ignore the warnings. Local residents generally avoid the area because it is known to be hazardous, according to a man surnamed Wei who lives nearby.