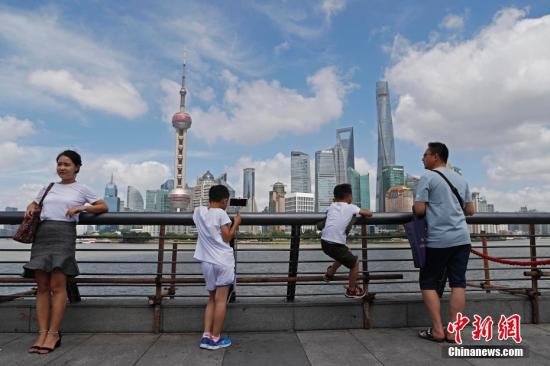 Tourists visit the Bund in Shanghai. (File photo/China News Service)
(ECNS) -- China's national consumer expenditure per capita went up 6.7 percent year-on-year to reach 9,609 yuan ($1,402) in the first six months, while Shanghai residents took the lead in both spending at 21,321 yuan and disposable income at 32,612 yuan, according to official data.
Of the 31 province-level regions, Shanghai was the only one to have per capita consumer expenditure on goods and services of more than 20,000 yuan, data from the National Bureau of Statistics showed.
Seven regions — Beijing, Tianjin, Zhejiang, Guangdong, Jiangsu, Fujian and Liaoning—reported a per capita consumption of between 10,000 yuan and 20,000 yuan in the first half of the year.
Data also showed that the top categories people spent money in were food-tobacco-alcohol, housing, transportation and communication.
Wang Youjuan, director of the Household Survey Office of the National Bureau of Statistics, said consumption related to sports, health and tourism showed strong growth. At a national level, the per capita expenditure for sports and fitness increased by 39.3 percent, while for medical services the increase was 24.6 percent, and for hotel expenses, 37.8 percent.
Per capita expenditures on cosmetics, adult education and pre-school education/training also showed double-digit growth.
Bai Ming, deputy director of the International Market Research Institute under the Ministry of Commerce, said consumption was growing in China as people's incomes steadily grew and consumption power improved.