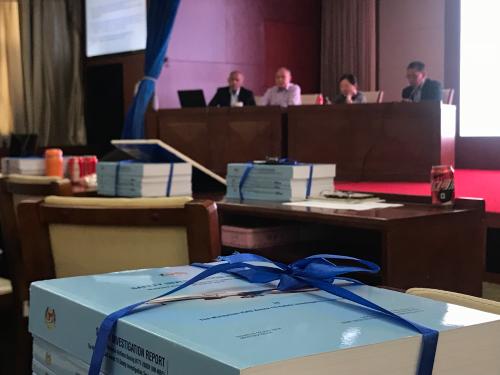 Representatives of the Malaysia Airlines hold a meeting with relatives of MH370 victims in Beijing, Aug. 3, 2018. (Photo/Chinanews.com)
(ECNS) - Kok Soo Chon, lead investigator of missing Malaysia Airlines flight MH370, said searching for the Boeing 777 will continue only if there's reliable information.
The former director-general of the department of civil aviation in Malaysia made the statement in a meeting with family members of the missing Chinese passengers during a press conference in Shunyi District, Beijing on Friday.
He said the new information must be fully verified by experts before it's considered reliable.
Family members said they were not happy with the progress and called for Malaysian authorities to continue the search.
Investigators just released a 1,500-page investigative report into the disappearance of MH370, saying they do not know what happened to the Malaysian Airlines plane, which vanished four years ago.