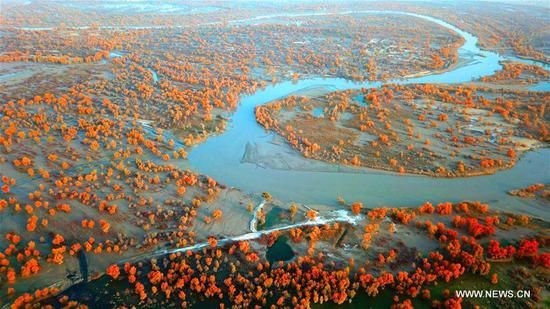 Aerial photo taken on Oct. 31, 2017 shows the autumn-colored scenery along banks of Tarim River in Weili County, northwest China's Xinjiang Uygur Autonomous Region. (Photo/Xinhua)
China will push forward water resource research and management in the Tarim River Basin, according to the Chinese Academy of Sciences (CAS) Thursday.
The research will be based at an ecological protection and water resources management and research center along the Tarim River Basin, which was established in Korla in northwest China's Xinjiang Uygur Autonomous Region Wednesday.
Co-founded by the CAS Xinjiang Institute of Ecology and Geography, and Xinjiang Tarim River Basin Management Bureau, the center aims to provide solutions for water ecology protection, water resource optimization and over exploitation of underground water.
The center will also cultivate talents and experts in Tarim River Basin management.
The Tarim River, China's longest inland river, runs 1,321 kilometers along the rim of the barren Tarim Basin.
Xinjiang has infused 7 billion cubic meters of water to the dry trunk stream of the lower reaches of the Tarim River in 18 rounds of water diversion since 2000, making the local forest of desert poplar a tourist attraction.