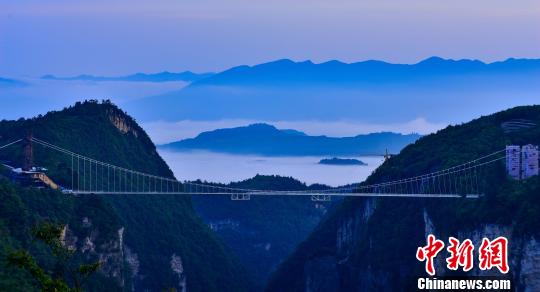 Zhangjiajie Grand Canyon Glass Bridge. (Photo/China News Service)
(ECNS) - Zhangjiajie Grand Canyon Glass Bridge, designed by China Railway Major Bridge Reconnaissance & Design Institute (BRDI), has won the Arthur G. Hayden Medal in the 35th International Bridge Conference (IBC), the pre-eminent arena for the world's bridge industry.
The news was announced by the institute on Wednesday.
The IBC annually recognizes individuals and projects of distinction, with seven awards in honor of distinguished engineers who have had a significant impact on the bridge engineering profession worldwide. The medal is awarded for a single recent outstanding achievement in bridge engineering demonstrating innovation in special use bridges such as pedestrian, people-mover, or non-traditional structures, according to IBC.
Located in Zhangjiejie National Forest Park of Central China's Hunan Province, the bridge linking two mountain cliffs has scored a number of world records. It measures 430 meters in total length and 6 meters in breadth, and is suspended about 300 meters above the ground. When it opened in 2016 it was the longest and tallest glass bottomed bridge in the world.
BRDI, also responsible for the bridge's maintenance, successfully solved the technical challenges in cable system design, glass bridge surface stress, wind resistance, human-induced vibration, durability and deformation adaptation.
Wan Tianbao, BRDI's chief designer for the bridge, said the bridge ushered in the era of customized, multifunctional suspension structures in China's bridge history.
In addition to the achievement, Xu Gongyi, deputy chief engineer of BRDI, also won the IBC John A. Roebling medal, awarded for lifetime achievement in bridge engineering. He is also the youngest winner of this distinguished award.
Xu has been engaged in bridge design for 30 years and acted as the main designer for over 50 big bridges in China, winning a number of domestic and international awards.