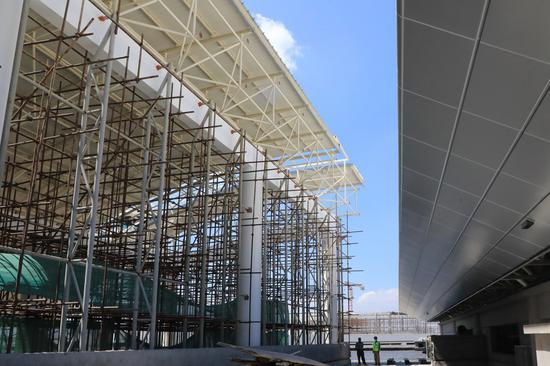 Photo taken on Sept. 1, 2021 shows the construction site of the expansion project of Robert Gabriel Mugabe International Airport in Harare, Zimbabwe. (Photo: Xinhua/Wanda)
"QUIET DEEDS SHOUT FAR"
Many Zimbabweans firmly believe that the cooperation and friendship between Zimbabwe and China, as well as between Africa and China, will not be undermined by the United States.
Noting that "China's cooperation with Africa and Zimbabwe never attaches political or economic strings," the opinion by The Herald described China as "a friend and role model."
"The future of Zimbabwe lies with progressive forces such as China ... Zimbabwe is in a good space, to be a friend of China," it added.
Meanwhile, Chiwenga has pointed out that despite U.S. efforts to sway public opinion against China, such misinformation "is not going to destroy that comprehensive partnership between the two peoples."
The vice president thanked China for its continuous support of Zimbabwe during the COVID-19 pandemic, such as providing the African country with COVID-19 vaccines.
"Apart from the generous support in the health sector, we are indebted to the people of China for the support towards infrastructural development in all sectors of Zimbabwe's economy," he said.
Through Chinese investments, the infrastructure projects in Zimbabwe, either underway or completed, have resulted in higher living standards for many, he said.
George Charamba, press secretary in the Office of the President of Zimbabwe, has also spoken highly of the "profound contributions" of the Chinese people to Zimbabwe's development.
He said the two countries cherished their comprehensive partnership. "Quiet deeds shout far," Charamba said.