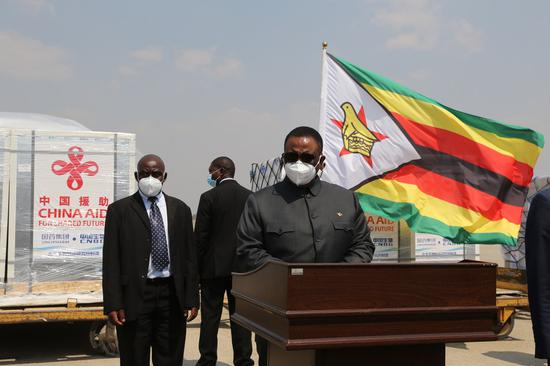 Zimbabwean Vice President Constantino Chiwenga speaks during a handover ceremony of China-donated vaccines at Robert Gabriel Mugabe International Airport in Harare, Zimbabwe, on Sept. 26, 2021. (Photo: Xinhua/Chen Yaqin)
SAYING NO TO "DIRTY MONEY"
In an opinion published on Sept. 24, titled "Never Be Used against China by the United States," The Herald called on "all right-thinking citizens" to condemn ill attempts to "smear the image of China and its investors in Zimbabwe," pointing out that such schemes fully reflect the plotters' "jealousy and chicanery."
"It is unfortunate that some sections of the media have accepted dirty money to go on this crusade to demonize Chinese companies who are providing employment, livelihoods and paying taxes for the benefit of the nation," it said.
"Various false claims are made against Chinese companies and nationals without any attempt to validate them or to give audience to the supposed aggressors," it said, adding that "Western countries want to perpetuate this racist and hateful behaviour in an effort to knock out China from its well-earned place in Zimbabwe."
"Unlike the boastful U.S., though, China is not interested in dominating the world and would rather belong to a global commonwealth of shared values," it said.
Zimbabwean Vice President Constantino Chiwenga has also urged citizens not to be hoodwinked and misled by anti-China reports funded by U.S. money.
"We get so many uninvited voices talking about the friendship between Zimbabwe and China, trying to destroy what has been achieved through the help from the People's Republic of China," said Chiwenga.
Rangarirai Shoko, editor-in-chief of the New Zimbabwe Inter-Africa News Agency, said the U.S. attempt to stir up anti-China reports under the disguise of "supporting free press" is in fact aimed to smear Africa-China cooperation.
Yet it will not shake the foundation of bilateral cooperation, nor change China's influence in Africa, Shoko said.
The U.S. plot has also been criticized by social media users. For example, a netizen called NewDispensation pointed out in a tweet to the U.S. embassy that if it truly hopes to help Zimbabwe achieve development, it would have offered engineering and technology courses to the country.
"Terrorism journalism is all you want to teach people and spread your propaganda to them," read the tweet.