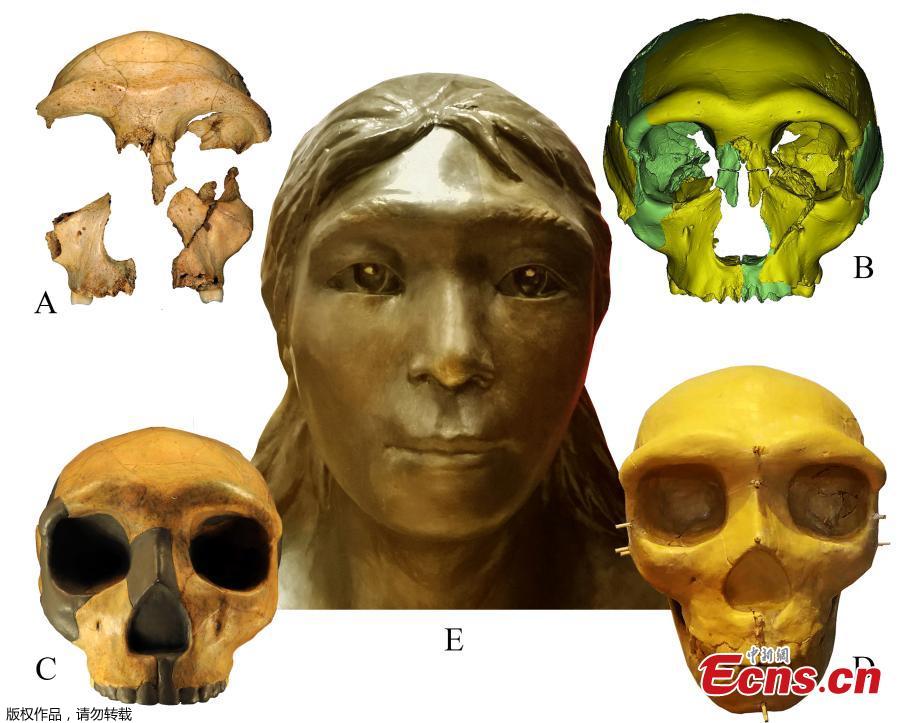 The handout photo released by Institute of Vertebrate Paleontology and Paleoanthropology, Chinese Academy of Sciences (IVPP, CAS) shows the restoration image of a skull excavated from Hualong Cave upper Paleolithic site in Dongzhi County, east China's Anhui Province, Oct. 8, 2021. (A: Fossil No.6 in Hualong Cave; B: Virtually restored skull image; C: Physical image of the restored skull; D: Sculptured skull; E: Restoration image of the skull No. 6) (Photo/Agencies)
Latest research led by IVPP and foreign experts shows ancient humanities from Hualong Cave 300,000 years ago share majorities of resemblances with modern humans in early periods and even modern humans, marking the earliest of ancient humanities to share similar facial features with modern humans in East Asia.
Mosaic morphological characteristics, upper orbital and zygomatic features still share resemblance with homo erectus fossils from the Mid-Pleistocene period (around 77,3000-12,6000 years ago) found in Zhoukoudian site in Beijing and ancient humanity site in Nanjing in Jiangsu, Dali in Shaanxi and Jinniushan in Liaoning.

The handout photo released by Institute of Vertebrate Paleontology and Paleoanthropology, Chinese Academy of Sciences (IVPP, CAS) shows the facial bone fossil of a complete skull. (Photo/Agencies)