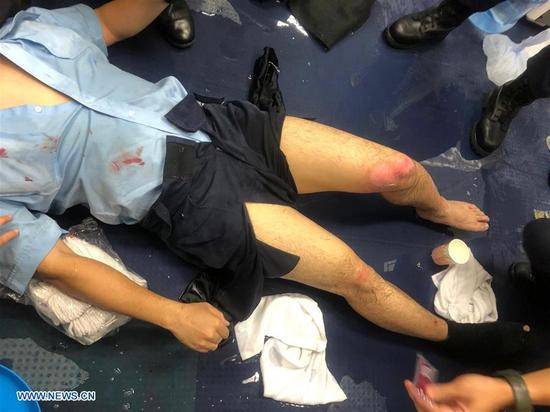 Photo taken on Aug. 11, 2019 shows an injured Hong Kong police officer. One police officer was seriously injured as gasoline bombs were thrown at police officers at multiple locations in Hong Kong on Sunday night. (Xinhua)
One police officer was injured after rioters threw petrol bombs at the police during Sunday's protests in Tsim Sha Tsui, Hong Kong police confirmed.
In a statement, Hong Kong police said the officer "sustained burn injuries on legs after being hit by a petrol bomb hurled by a radical protester while he was on duty in Tsim Sha Tsui Police Station earlier today."
The Commissioner of Police Lo Wai-chung visited the officer and severely condemned the "reckless, violent and unlawful acts" committed by the radical protesters, the statement said.