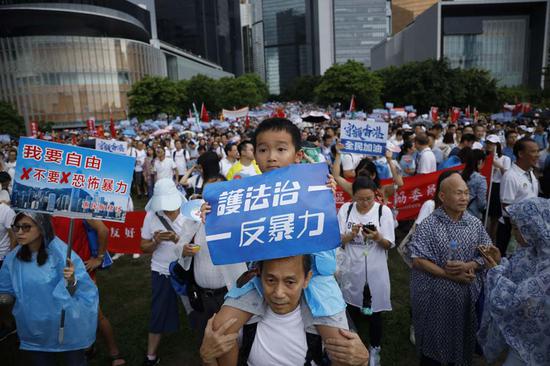 A boy holds a placard that reads "Safeguard the Rule of Law" and "Say No to Violence" during a peaceful rally at Tamar Park, Hong Kong, July 20, 2019. (Photo/CHINA DAILY)
The central government and all walks of life in Hong Kong are worried that social unrest in the city is starting to take its toll on its economy.
Yang Guang, a spokesman for the Hong Kong and Macao Affairs Office of the State Council, said violent clashes between the police and protesters have affected the city's economy, harming tourism and retail sales.
"The political protests began in June and have had a detrimental effect on Hong Kong's economy and even dampened overseas investors' confidence in Hong Kong," Yang said at a news conference on Tuesday.
He added that flights in and out of Hong Kong, railway operations and traffic on major roadways in the city were all affected by the general strike on Monday.
Yang's remarks came after Hong Kong's top financial official warned that the city's economy faces the prospect of a "technical recession period" in the third quarter of this year.
Hong Kong's economic output in the second quarter increased 0.6 percent year-on-year, according to its Census and Statistics Department.
"Hong Kong's economic environment became more challenging in July, and if there are job layoffs due to the economic downturn, this will affect the livelihood of many Hong Kong residents," Hong Kong Financial Secretary Paul Chan Mo-po said on Wednesday.
He said the government will consider measures to support Hong Kong's small and medium-sized enterprises and boost employment in terms of facilitating capital turnover, slashing operational costs and exploring overseas markets.
"We will also consider launching measures that can alleviate the financial burdens of the city's residents," Chan added.
Hong Kong's tourism and retail industries are feeling the pinch as a result of the recent political protests.
The Hongkong and Shanghai Hotels, the city's listed enterprise that operates the Peninsula Hotel brand, cautioned that political uncertainty in Hong Kong could jeopardize its business performance and the hotel operator is monitoring how the protests affect visitor arrivals and Hong Kong's economic stability.
Wharf Real Estate Investment Co, the retail property arm of Hong Kong's listed developer Wheelock and Co, said the prospects for business performance in the second half of the year were not optimistic.
"The retail industry of Hong Kong is facing a perfect storm with external and internal factors affecting the whole sector. We may face greater challenges than ever this year," Wharf Real Estate Investment Co Chairman and Managing Director Stephen Ng Tin-hoi said on Tuesday.
Retail sales in Hong Kong declined 6.7 percent year-on-year in June, falling for the fifth consecutive month, amid the anti-extradition bill protests, which have harmed consumer sentiment. According to Hong Kong's financial secretary, inbound tourism has created more than 220,000 jobs in the retail, catering and hospitality industries.
"In fact, if the current protests in Hong Kong and the trade dispute between the United States and China continue, this year's retail sales could decline by more than the 3.7 percent in 2015, during the anti-corruption campaign on the Chinese mainland," said Stephanie Lau, a Moody's vice-president and senior analyst.