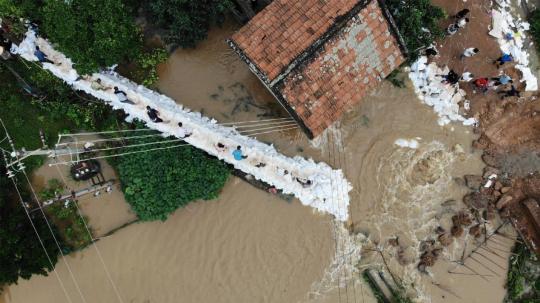 Villagers and Armed Police officers distribute sandbags to contain floodwaters in Hengnan, Hunan province, on July 10, 2019. (ZHOU WEI/FOR CHINA DAILY)
About 1.63 million residents have been affected by heavy downpours and floods in South China, with about 77,000 resettled after the latest rainfalls, according to the Ministry of Emergency Management.
Heavy rainfalls have swollen rivers in Chongqing municipality, Guizhou, Zhejiang, Jiangxi, Hunan, Sichuan provinces and Guangxi Zhuang autonomous region, the ministry said.
The office of State Flood Control and Drought Relief Headquarters on Tuesday sent four working groups to Hunan, Jiangxi, Guangxi, and Guizhou to assist local governments in disaster relief work. That office and the National Food and Strategic Reserves Administration dispatched 50 rubber boats to Jiangxi to support their work. Floodwaters have inundated Jiangxi's Ganjiang River, a main tributary of the Yangtze River.
On Tuesday, the provincial emergency management department and water resources department raised the emergency response level from grade IV, the lowest level, to III. Hunan's provincial water resources department also raised its level from grade IV to III.
The Orange Isle, a tourist spot in Changsha, Hunan, has been shut because the Xiangjiang River has started to submerge it, exceeding the water warning level by 2 meters, according to the water resources department.
Since Saturday, eight cities in Guangxi have suffered from flooding. In Nanning, the capital, road signs were blown away by rain and wind, and water poured from an underground well into the middle of the road, the Guangxi Daily reported.
In Donglan county, cars were inundated by mountain torrents, and traffic officers were on standby to help with relief work.
According to the China Meteorological Administration, heavy rainfall will decline in the northwestern region and the south parts of the Yangtze River from July 11 to 12.
However, the southeastern parts of the Tibet autonomous region, northwestern parts of Sichuan and northwestern areas of Yunnan will still see heavy rainfall of 50 to 90 millimeters.