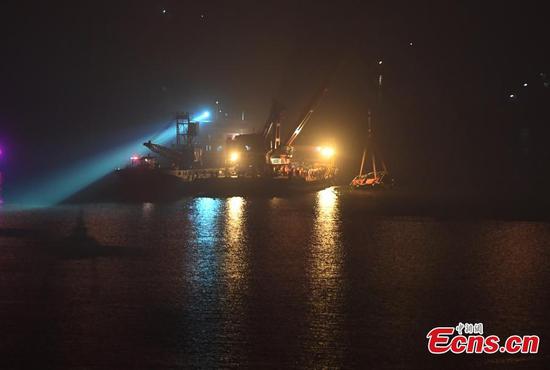 Rescuers on Wednesday night salvaged the wreck of a bus that plunged into the Yangtze River in Chongqing Municipality leaving at least nine people dead. (Photo: China News Service/ Chen Chao)
A fistfight between a passenger and a bus driver was found to have caused a bus to plunge into the Yangtze River in southwest China's Chongqing Municipality on Sunday, local authorities said Friday.
A total of 13 bodies have been retrieved from the river, in Wanzhou District, and have all been identified. Two remain missing.
Police authorities managed to restore data on the bus tachograph retrieved from the river early Wednesday as well as the surveillance video from inside the bus.
The investigation showed that a 48-year-old female passenger, surnamed Liu, planned to get off at a certain stop, but the bus had to make a detour and would not arrive there due to road maintenance.
The 42-year-old driver, surnamed Ran, told passengers to get off at an earlier stop. However, Liu did not get off and later asked the driver to stop the bus when she realized she missed her destination.
The driver refused as there was no bus stop in view, and an argument broke out, soon becoming a fistfight. The driver's right hand came off the steering wheel during the altercation, which led to the steering wheel turning sharply to the left.
The bus then lost control and veered onto the wrong side of the road and collided into an oncoming car before breaking through fencing and flying off a bridge over the Yangtze River at 10:09 a.m. Sunday.
Four passengers, who got off earlier, confirmed that a medium-height woman had quarreled with the driver because she missed her stop, local police said.
Rescuers on Wednesday night pulled the bus from the river.