By Wang Peng
The Foam, an experimental short film directed by Zhang Shanshan was officially selected for the Silicon Beach Film Festival and screened at the TCL Chinese Theaters in Hollywoodat 2:00 p.m. local time on Sept. 8.
Three years ago, another of her films Paradise Program was also screened at the same theater.
Zhang ingeniously uses images, space, sound, and actions to create a huge metaphorical space between the film prop "foam heads" and the protagonist. Within only a few minutes, the film is filled with anxious thoughts, profound life experiences, and penetrating questions about the entire human relationship, love, and death.
From the creation of her film, we can see that her vision and form have been constantly expanding by integrating the installation art and the performance art, so as to explore both the documentary nature of film narration and the abstract art that can be drawn upon, and the theme has also been greatly expanded. As a Chinese filmmaker of the new generation with outstanding artistic ability she has been highly recognized by experts in the field of film worldwide.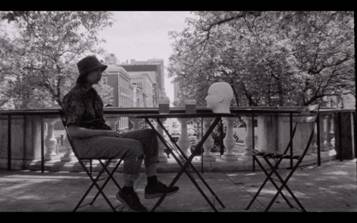 The Foam film still (Photo provided to ECNS)
The Foam: Intimacy is a way to confront mortality
For Zhang, The Foam makes animportant step in her exploration. which hasindeed been constantly recognized.She received an Honorable Mention at the 15th SHORT to the Point in Romania and was officiallyselected atthe 8th Silicon Beach Film Festival, the 10th Best Short Competition, and the 14th Pune Short Film Festival.
In the field of short films, all the aforesaid honors are of great value for most filmmakers.
At Silicon Beach which used to be located by many famous companies such as YouTube, Google, Sony Pictures Entertainment, and Amazon, the film festival founded by Jon Gursha and Peter Green has become a cutting-edge cinema trend indicator.
As one of the avant-garde film festivals in the United States, the Best Short Competition collected films from 72 countries, including feature films, documentaries, experimental films, music videos, etc.
The SHORT to the Point Film Festival in Romania is dedicated to the distribution and dissemination of various short films around the world. The Pune Short Film Festival in India, one of the most noteworthy and valuable short film festivals in Asia, is an innovative international short film festival that invites aspiring and upcoming independent filmmakers with the purpose of creating opportunities for global filmmakers.
The Foamhas not only been recognized at the film festivals but also exhibited in the galleries. After being premiered in New York City and China, the film joined the Art on Loop Europe touring exhibition organized by The Holy Art Gallery this summer in Paris, Amsterdam, and Brussels. Also exhibited in London at the Mix Identities hosted by Itsliquid. The 33rd Onion City Experimental Film Festival organizer invited Shanshan Zhang to serve on the 2023 screening committee after watching this film.