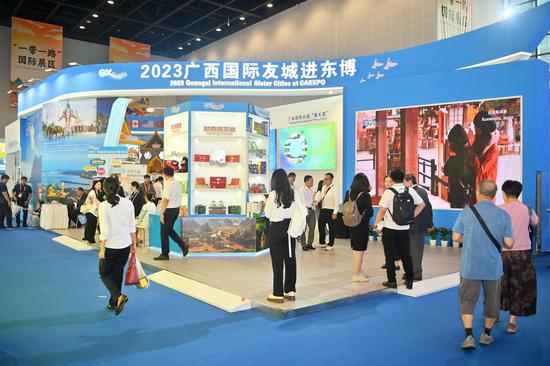 The pavilion of Guangxi International Sister Cities at CAEXPO. (Photo by Yu Jing)
2023 Guangxi International Sister Cities at CAEXPO is a pavilion covering an area of nearly 400 square meters exhibiting city images and distinctive local goods from Guangxi's international sister cities across the globe.
The China-ASEAN Expo, or CAEXPO, is one of the most important exhibitions held in Nanning, capital of Guangxi Zhuang Autonomous Region. Jointly hosted by the governments of China and 10 ASEAN countries, the CAEXPO has been successfully held once a year since 2004.
Since the First CAEXPO was held in 2004, international sister cities of Guangxi have actively participated in the event by sending delegations, attending exhibitions, holding promotions or releasing products. The images, commodities, technologies and cultures of international sister cities have impressed the audience deeply.
This year marks the 10th anniversary of the proposal to build an even closer China-ASEAN Community with a Shared Future and the Belt and Road Initiative, as well as the 20th anniversary of the CAEXPO.
Guangxi International Sister Cities at CAEXPO, initiated last year, is aimed at setting up a platform for closer ties and cooperation among international sister cities and the countries they represent. According to the Guangxi Foreign Affairs Office, the previous year's event saw a remarkable success, facilitating the signing of over 40 cooperative MoUs, with a negotiated sum of $630,000. The debut of the pavilion last year garnered significant attention from visitors, particularly residents of the international sister cities.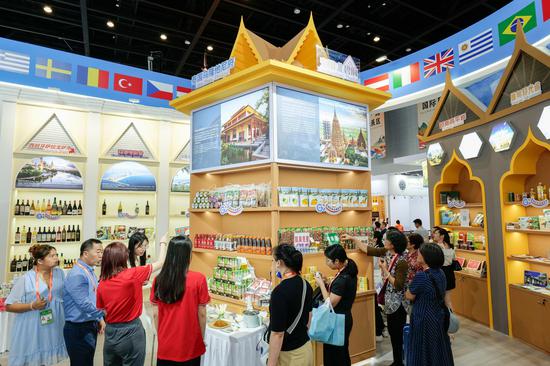 Visitors select commodities at the Guangxi International Sister Cities at CAEXPO. (Photo by Liao ZhangLi)
More than 30 international sister cities from different countries, including Indonesia, Laos, Malaysia, Myanmar, Philippines, Thailand, Vietnam and Japan, ROK, Maldives, Spain, Zambia, South Africa and other BRIparticipantsattended the CAEXPO by showcasing their representative landscapes and landmarks, competitive industries and specialty products.
The exhibits include exquisite beverages, special snacks, captivating anime figurines, as well as distinctive daily essentials such as moisturizers, soaps, and water filters.
Visitors have an wonderful opportunity to capture memorable photos, indulge in complimentary tastings of local cuisine, immerse themselves in trying on traditional clothing, and even receive complimentary souvenirs.
Additionally, renowned landmarks from these sister cities will also be recreated within the pavilion, allowing visitors to embark on a virtual world tour through captivating photo opportunities.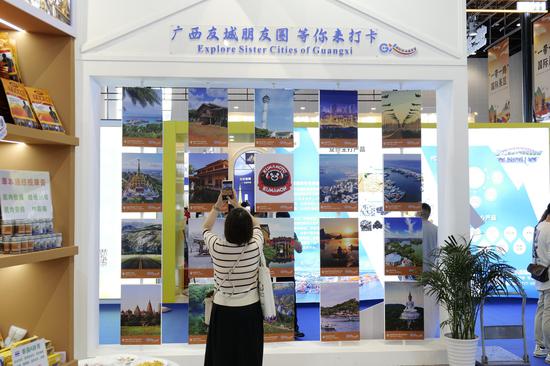 A visitor takes photos at Guangxi International Sister Cities at CAEXPO held in . (Photo by Liao Zhang Li)
This year, following the principle of openness and inclusiveness, the pavilion is set to present an even more captivating experience with an expanded exhibition area featuring a wider range of exhibits and engaging activities.
More than 30 international sister cities from 17 countries across the globe gather in Nanning again, to witness the CAEXPO embracing the Diamond Crown Decade and to join hands in creating an even brighter future for all.