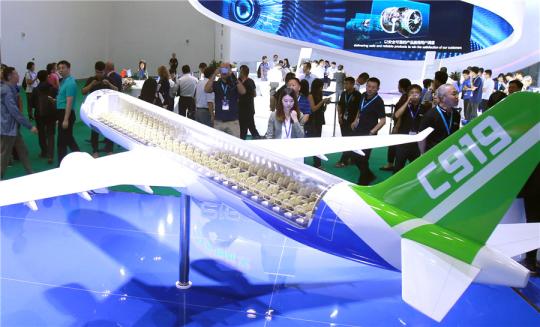 A model of passenger jet C919 is displayed at the Aviation Expo China in Beijing. (Photo by Chen Xiaogen/For China Daily)
Special: 70th birthday of PRChina
Move will help aviation industry get involved in global supply chain system
Commercial Aircraft Corp of China, the manufacturer of China's first home-built narrow-body passenger jet C919, said it will start manufacturing the first aircraft later this year and it aims to get airworthiness certification and deliver to China Eastern Airlines in two to three years.
Now, four C919 test jets-the 101,102, 103 and 104 prototypes-are in intense flying tests, static tests and other ground tests at test bases including Yanliang district in Xi'an, Shaanxi province, Dongying in Shandong province, and Nanchang in Jiangxi province. Another two new test jets, the 105 and 106, will be put into tests within this year. So far, 815 orders have been placed for the C919 from home and abroad.
"The manufacturing of the C919 will help the Chinese aviation industry to be involved in the world's supply chain system of large aircraft, and China will be able to acquire valuable experience," said Wang Yanan, editor-in-chief of Aerospace Knowledge magazine.
"The C919 still needs to undergo several tests to showcase that it is a safe, fuel-efficient, and convenient aircraft. The Chinese aviation industry could transform from a manufacturing giant to an innovation power," he said.
Meanwhile, the CR929 long-range wide-body aircraft, which is co-developed by China and Russia, has finished conceptual designs, and now it is in the stage of selecting suppliers.
"Aero engine makers General Electric Aviation of the United States and Rolls-Royce Holdings Plc of the United Kingdom, among others, are in the bidding process, and we will announce the result at a later stage," Yang Yang, deputy general manager of marketing and sales at COMAC, said at the ongoing Aviation Expo China in Beijing on Wednesday.
The CR929 will mainly target markets in China, Russia and other Asia-Pacific countries. Its competing models include the Airbus'A330 and Boeing's B787.
Besides, the ARJ21, China's first home built regional passenger jetliner, has already been put into use with 15 aircraft by Chengdu Airlines and Genghis Khan Airlines. In August, three major State-owned airlines-Air China, China Eastern Airlines and China Southern Airlines-each ordered 35 new ARJ21 aircraft, indicating the model will start all-around commercial use in the country.
"The market for the ARJ21 is better than we expected. We have an order of 596 aircraft, and about 200 of them have been put into production plan. Now, we have two production lines in Shanghai," Yang said.
"With a growing demand from customers, we will be able to expand the annual capacity to about 50 in total. We are also looking at the opportunities to export the aircraft to Southeast Asian countries and Africa," he said.
In late August, the ARJ21 aircraft undertook a three-day demonstration flight in Southwest China, to showcase its performance in plateau areas. COMAC said the plateau market would become an important growth segment for the aircraft, as the model is suitable to fly in highland areas.
Separately, COMAC released its forecast for China's aviation market in the next 20 years on Wednesday. It predicted Chinese airlines would need 10,344 airplanes by 2038. Boeing released its forecast on Tuesday and raised its forecast for China, saying that over the next 20 years, Chinese carriers will need 8,090 new airplanes.