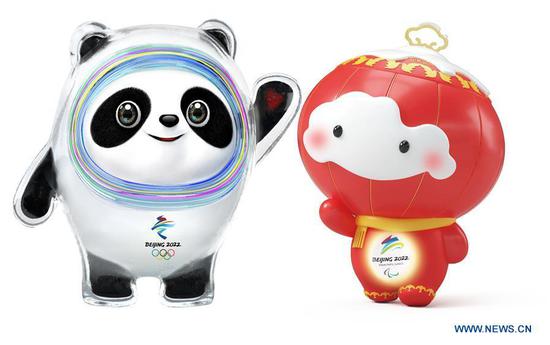 This handout image shows the mascot of Beijing 2022 Olympic Winter Games Bing Dwen Dwen (L), and the mascot of Beijing 2022 Paralympic Winter Games Shuey Rhon Rhon, unveiled by Beijing Organising Committee for the 2022 Olympic and Paralympic Winter Games in Beijing, capital of China, Sept. 17, 2019. (Xinhua)
(ECNS) - A cheerful panda named Bing Dwen Dwen has been selected as the mascot for the Olympic Winter Games 2022, and a lantern child named Shuey Rhon Rhon as the Paralympic mascot.
In Chinese, Bing means ice and Shuey (Xue) means snow.
The launch of the Olympic and Paralympic mascots is another step forward in preparations for the Games.
Authorized by the Beijing Organizing Committee of the Olympic and Paralympic Winter Games (BOCOG), new licensed products will be on the market on the first Saturday of each month starting Oct. 5, according to Pu Xuedong, the head of marketing development at BOCOG.
Merchandise featuring the two mascots, including emblems and stationery items, will be available on Oct. 5, while toy products can be reserved on the official website. Later in the year, stamps and other philatelic products themed on the two mascots will also be released.