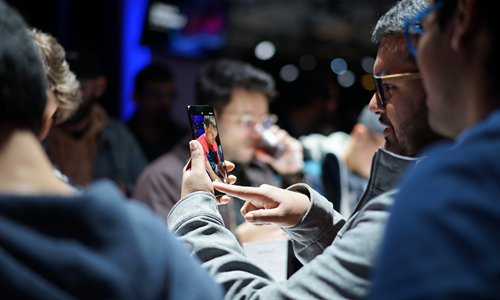 Consumers check out OnePlus smartphones in the U.S. (Photo/Courtesy of OnePlus)
There will be cooperation, instead of hostility, between Chinese and U.S. mobile phone companies in the long run as the U.S. needs more mobile phone brands than are available in the country currently, a telecommunications expert said on Thursday. 
He made the comment after domestic mobile phone brand OnePlus announced a comprehensive strategic cooperation pact with U.S. mobile carrier T-Mobile on Monday. 
Starting from Thursday, the new OnePlus 6T smart phones are being sold in the 5,600 T-Mobile stores in the U.S., OnePlus told the Global Times via a written statement on Thursday. 
Pete Lau, CEO of OnePlus, posted several pictures of U.S. customers queuing outside of a T-Mobile store on his personal twitter account. In one of those pictures, the exterior walls of the T-Mobile store are covered with large pink posters for the OnePlus 6T. 
A report from Business Insider also noted in a report on Tuesday that outside T-Mobile's flagship store in Times Square, there was even a longer line of customers waiting to buy the new OnePlus 6T than for the new iPhones. 
OnePlus' acceptance by a mainstream U.S. carrier comes at a time when several Chinese mobile phone brands' business is being hindered in the U.S. under a tougher investment environment. 
In January, AT&T suddenly backed out of a deal with Huawei to sell the company's new flagship smartphone in the U.S., according to a report of the Verge. 
A trade ban imposed on China's ZTE Corp by the U.S. government earlier this year also caused the company to suffer damage in the U.S. market. The trade ban was lifted in July. 
But experts said that in the long term, the U.S. markets will welcome Chinese products. "U.S. customers want more choices other than Apple and Samsung, while Chinese mobile phones have distinctive advantages, especially their cost performance," Xiang Ligang, chief executive of Chinese telecoms industry news site cctime.com, told the Global Times. 
But he still stressed that the threshold is higher in the U.S. than in other markets like India for overseas mobile phone vendors.