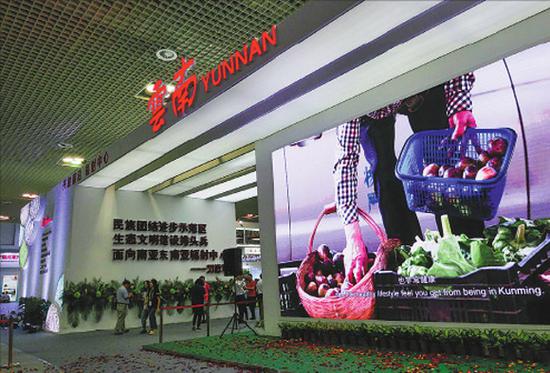 As the guest province of honor, Yunnan province showcases its resources in various key fields during the event. (Photo: China Daily/Xiao Da)
This year the fair is featuring the Maritime Silk Road Countries Pavilion, boasting an area of 2,000 square meters and 120 exhibitions, which has attracted the participation of over 20 countries involved in the Maritime Silk Road.
Among these were 10 members of the Association of Southeast Asian Nations, including the Philippines and Malaysia.
It's the first time these countries banded together in such a way at the fair, to demonstrate the fruits of their engagement and to share details about business outcomes, said Zheng Peizhi, general president of the Malaysia Xiamen Chamber of Commerce.
Zheng said that through the pavilion, traditional products from the Silk Road are being showcased such as tea, porcelain and silk - demonstrating their rich links to the Belt and Road Initiative.
"We have a clear intention to cooperate on many projects," he said. Malaysia had demonstrated its projects including real estate, he added.
John Paul B. Inigo, commercial vice-consul at the Philippine Consulate General in Guangzhou, said his country looked forward to more investment from China.
"We have seen a lot of the Philippines' companies come to Fujian province," he said, adding that Manila sought more investment from China, especially for the manufacturing industry.
A spotlight at the event also shone on Yunnan province and the Czech Republic, which achieved a high profile through a series of successful initiatives.