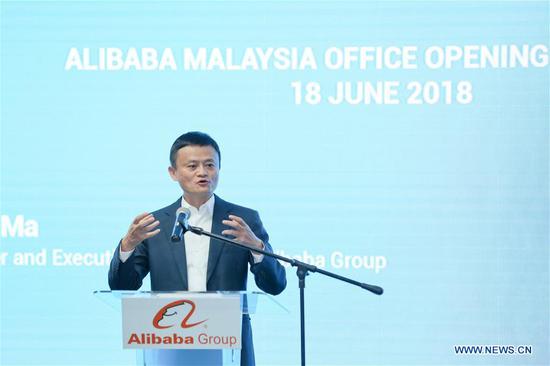 Jack Ma, Alibaba founder and executive chairman, speaks at the opening ceremony of Alibaba Malaysia office in Kuala Lumpur, Malaysia, June 18, 2018. (Xinhua/Zhu Wei)
Alibaba co-founder and chairman Jack Ma on Monday announced in an open letter that he would step down a year later, when the company CEO Daniel Zhang will take over as the chairman of the board.
Read More: Alibaba founder's move part of broader plan
In the letter with a title of "Happy Teachers' Day", Ma said he would retire on Sept. 10, 2019, upon Alibaba's 20th founding anniversary.
Ma said he would work closely with Zhang to ensure a smooth transition and stay on the Alibaba board of directors until the annual shareholders meeting in 2020.
He said he had made preparations for a 10-year succession plan to develop a system of corporate governance based on culture and mechanism for developing consistent talent and successors.
Ma resigned from the post of CEO on May 10, 2013. He said the company ran smoothly for five years on the back of the institutional ingredients.
The former English teacher founded Alibaba in 1999, which has developed into a U.S.-listed conglomerate employing 60,000 people with a market value surpassing 400 billion U.S. dollars.
The company's revenue amounted to 80.9 billion yuan (11.8 billion U.S. dollars) in the second quarter, up 61 percent year on year, sustaining a rapid growth rate for six quarters in a row.
Ma said in the open letter that he wants to return to education, which gives him excitement and blessings.