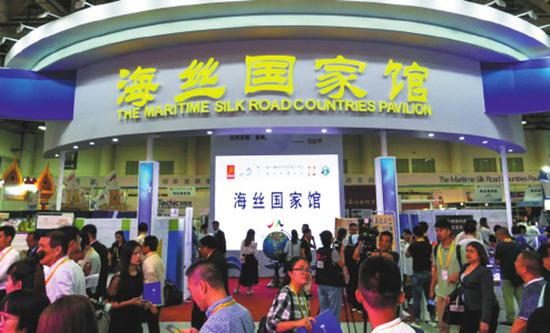 Covering an area of 2,000 square meters and boasting 120 exhibitions, the Maritime Silk Road Countries Pavilion at this year's CIFIT in Xiamen, Fujian province, attracts more than 20 countries involved in the Maritime Silk Road. (Photo: China Daily/Xiao Da)
Large crowds drawn by prospects of insights into B&R, investment, development.
The formidable juggernaut that is the China International Fair for Investment and Trade successfully kicked off in Xiamen in Fujian province on Saturday, drawing major crowds hoping to get valuable insights into major global shifts and developments.
CIFIT's 20th anniversary staging - with the theme "implementing the new concept of development, integrating the Belt and Road Initiative and facilitating bilateral investment" - runs to Tuesday.
Organizers said in all, the fair is expected to attract about 120,000 visitors from over 110 countries and regions. They're being drawn by an exhibition area of 130,000 square meters, 6,000 stands and 16 themed exhibitions focusing on such hot-button topics as investing in China, international investment, modern services industries, cross-border e-commerce and emerging industries.
CIFIT was set up 20 years ago to be a bridge for strengthening cooperation and seeking mutual development between China and the rest of the world and has since become a window for China's opening-up, said Wang Shouwen, vice-minister of commerce.