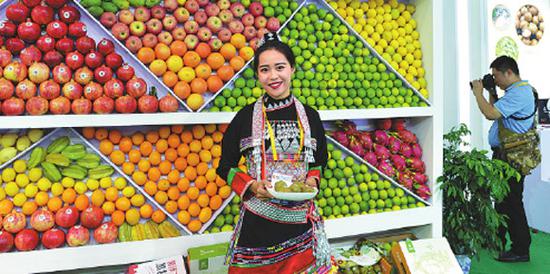 Staff member displays high-quality fruit produced in Yunnan at the province's stand during the event. (Photo by WU XIAOPING/FOR CHINA DAILY)
Organizers said that as the guest province of honor, Yunnan demonstrated its resources in various fields and reached important business and investment deals.
Located at the junction of the Belt and Road Initiative and the Yangtze River Economic Belt, Yunnan is set to play a more important role as a new center of China's economic development, said Zhao Ruijun, head of the Yunnan Department of Commerce. "We are improving our business environment and will promote it on an international level to attract top enterprises from home and abroad," Zhao said.
The province signed off at CIFIT on a total of 39 investment and business deals - ranging from logistics, health, education and energy - worth a massive 51.28 billion yuan ($7.50 billion).
Yunnan is fertile for the development of green energy and possesses a large market for investors from home and abroad, said Zhang Chunhong, deputy director of the province's energy bureau.
He said it invited leading companies to come there to further its economic success story.
CIFIT's guest host country, the Czech Republic, demonstrated its own business and commercial flair at its 500-sqm pavilion and at a seminar.
"It is the first year we are exhibiting here as guest country of honor," said Klara Jurcova, deputy head of mission at the country's embassy in China.
She said the fair was the "ideal platform" for promoting her country to important markets and it was also an opportunity for the Czech Republic to introduce its products for export to China - such as cars, high technology and consumer products - and to introduce its investment and tourist industries.