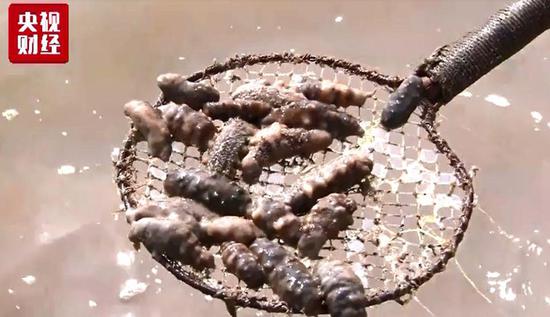 Dead bodies of sea cucumbers. (Photo/CCTV)
High temperatures have caused deaths of sea cucumbers in a large area in Northeast China's Liaoning province this summer, China Central Television reported.
Sea cucumbers die and decompose when the water temperature rises above 30 C, said Yu Chang, a farmer who has been raising sea cucumbers for more than 10 years.
The water temperature was about 25 C to 26 C in past years, but this year, the temperature reached 35 C to 36 C around 2 pm in recent days, Yu said.
The high temperature wiped out sea cucumbers in 90 percent of his pools with a total area of 1,000 mu (about 666.7 hectares), Yu said. The pools had an annual output of about 25 tons of sea cucumbers in past years.
Based on the current prices of sea cucumbers sold in the market, the loss will reach about 10 million yuan ($1.46 million) this year, Yu said.
In Dalian alone, farmers will suffer about 6.8 billion yuan loss.
According to local fisheries departments, sea cucumbers began to die across the province from July 28, and the animals first to go were in pools with a depth less than 7 meters.
Now many farmers have hired divers to fish out sea cucumbers, hoping to reduce the loss. Some divers said that lots of dead sea cucumbers have turned into a state of glue in the water.
However, Yu said the sea cucumbers will not be sold in the market as they do not meet the standard, and will be eaten by farmers themselves or given to their friends.