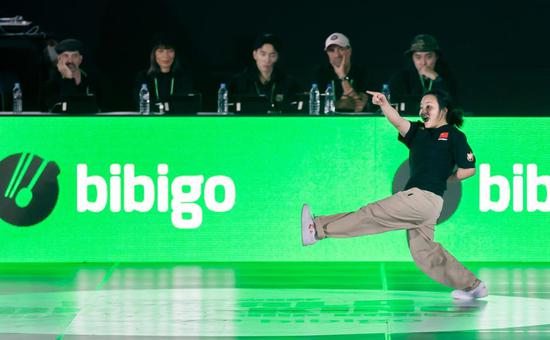 Guo Pu of China competes in the 2022 WDSF World Breaking Championship in Seoul, South Korea, Oct. 21, 2022. (Xinhua/Wang Yiliang)
Team China's B-girl Liu Qingyi, Guo Pu and B-boy Shang Xiaoyu qualified for the top 32 of the 2022 WDSF World Breaking Championship on Friday.
The hopeful Liu Qingyi, who goes by 671, has won two world titles within a month this year. The 17-year-old ranked fourth in Friday's pre-selection, marching on the right track toward her goal of being among the top eight in the event.
Shang Xiaoyu, also known as X-rain, was the only Chinese B-boy qualifying for the top 32. "The competition is very cruel. For me, every round is like the final round, no matter where can I get to, I will try my best." he said, "On behalf of China to stand on the Place de la Concorde (where the breaking will be held) in Paris 2024 is my biggest goal now."
Liu and her teammate Shang Xiaoyu have been training overseas since July. "Three months of training and competition overseas helped me a lot. Competing in the championships, I could present 'Chinese dancer' more to people," said Liu.