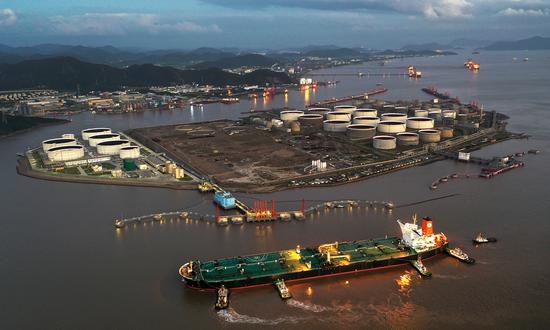 An oil tanker berths at a receiving facility at the Port of Zhoushan, East China's Zhejiang Province. (File Photo/China News Service)
China and Saudi Arabia have agreed to strengthen energy cooperation, maintain international oil market stability and jointly face risks and challenges, read a statement posted on the website of China's National Energy Administration (NEA) on Friday following a virtual meeting between top energy officials of the two countries.
China and Saudi Arabia, as the world's major energy consumer and producer, agreed that exchanging views on a regular basis is of great importance, according to the statement. NEA head Zhang Jianhua met with Saudi Arabian Energy Minister Prince Abdulaziz bin Salman via a video link on Thursday.
The complex and changing international situation has created many destabilizing factors for the oil market, but the stable, long-term supply of crude is of paramount importance for the stability of the market, the statement said, adding "Saudi Arabia will continue to be the most reliable partner and supplier of crude for China."
Earlier in the month, the Organisation of the Petroleum Exporting Countries (OPEC) and its allies agreed to a bigger than expected cut in oil production despite US opposition. From November, these countries will slash daily crude output by 2 million barrels. The event was seen by some as a blow to the Biden administration.
The two sides also exchanged views on cooperation and joint investment in countries along the China-proposed Belt and Road Initiative as well as investment in refinery and chemical integration projects in the two countries.
Saudi Arabia would like to use its geographical advantages linking three continents to build a regional center for Chinese manufacturers so as to strengthen cooperation in the energy supply chain, according to the statement.
The two sides also agreed to conduct cooperation within the framework of the intergovernmental agreement on the peaceful use of nuclear energy and agreed that the cooperation between China and Saudi Arabia in the fields of electricity, renewable energy and hydrogen energy is of great significance.
In the first eight months, China's crude imports totaled 330.18 million tons, or about 9.92 million barrels per day, down 4.7 percent from the same period last year.