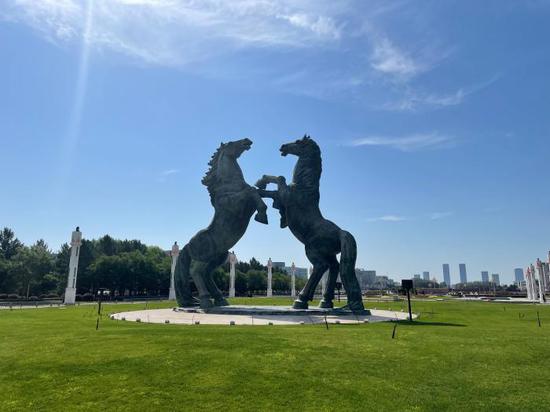 Photo taken on July 25, 2022 shows Shuangju Square in Kangbashi District,Ordos, Inner Mongolia. (Photo/Zhang Dongfang)
(ECNS) -- A zero-carbon industrial park in Ordos, Inner Mongolia, is working hard to promote green energy. The industrial park was put into operation in April.
With a total area of 73 square kilometers, it strives to reduce carbon dioxide emissions by 100 million tons per year.
It also aims to create 100,000 jobs and reach an output value of 300 billion yuan (about $44.4 billion) by the end of the 14th Five-Year Plan.
As green and low-carbon transformation becomes more important, the establishment of the zero-carbon industrial park has provided a solution for the city's future development.
The industrial park has brought opportunities to the development of new energy, said Tian Dongcheng, general manager of the Envision AESC base in Ordos.
Tian said the coal reserves in Inner Mongolia, which account for one sixth of the total in China, require about 330,000 fuel trucks for transportation annually.
Ordos not only uses wind and light resources to generate power, but also has a huge demand for energy storage batteries and new energy, which means the city can consume green energy and form a complete industrial chain.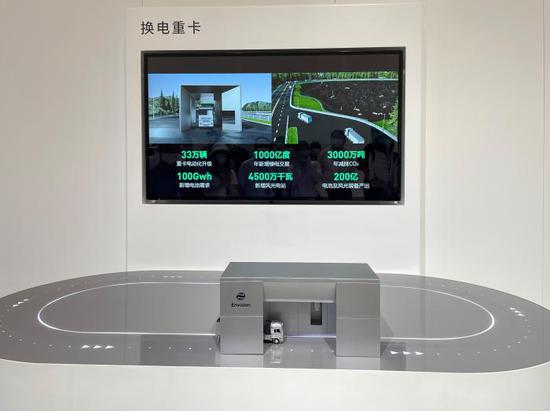 A screen in the Envision AESC base in Ordos. (Photo/Zhang Dongfang)