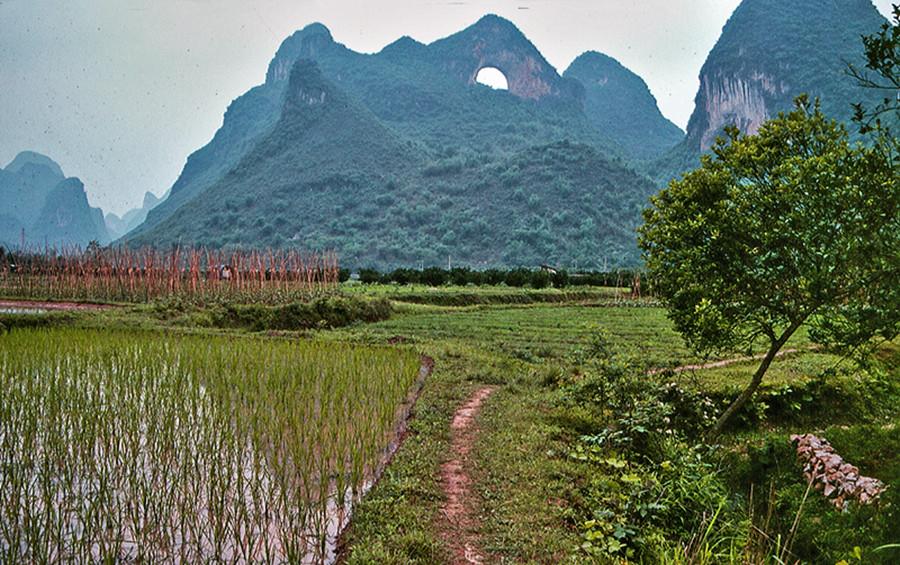 Moon Hill near Yangshuo 1993. (Photo by Bruce Connolly/chinadaily.com.cn)
Baisha Valley and the Yulong River made for excellent off-road experiences. In 1999, with no real maps I explored by simply following tracks to discover what was literally around the next bend. An old arched stone bridge led across an irrigation channel to a village. Hearing a shout of "Hello", I was waved up to an elementary school courtyard, where an entire class came out for photos with this lone laowai who had appeared seemingly out of the blue. A village shop had a refrigerator, and inside was one last bottle of cold water. That cooled me enough to start heading along the valley to where it meets Gongnong Bridge, carrying the road from Yangshuo over the tranquil Yulong waters. As I stood on that bridge, another call — this time from people beside the river, where a new hotel had opened. After a welcome cold drink in a small wooden cabin at the waterside, I was invited to float on a bamboo raft, for free. Yes it truly was heavenly.
One early evening in 1993 while cycling alongside the Jingbao River, a tributary of the Yulong, I saw a massive tree. Pulling off the highway I headed down a track to the "Big Banyan Tree" or Darongshu, with its almost umbrella-like shape. 17 meters high with a width of 7 meters, it was planted around 1,400 years ago during the Song Dynasty (581-618). A popular love story, Liusanjie, was partly filmed there, so many young couples these days visit the site to express their mutual love. But in '93, I had the area to myself. As I looked across the river, villagers, some with bamboo shoulder poles, crossed a ford — a scene keeping me transfixed even as the sun was going down. It was one of the most beautiful evenings imaginable, with the surrounding peaks stunningly reflected on Jingbao's calm surface.
Prev Button
Next Button