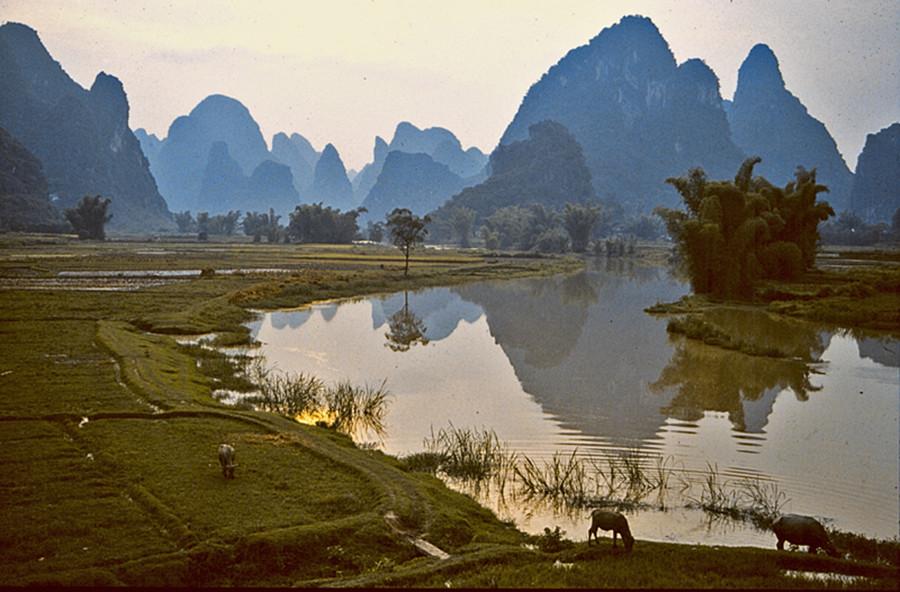 Evening near Big Banyan Tree Yangshuo 1993. (Photo by Bruce Connolly/chinadaily.com.cn)
Within minutes I was back out cycling the stone-paved streets, stopping at cafes for cold drinks and snacks. The fun had started! Normally in China I would try to speak some Chinese. No matter how poor my efforts, they were usually appreciated — but not in my first Yangshuo cafe! As I tried to order a cold beer, the owner looked at me with indifference, interjecting in perfect English, "Please don't try to practice your Chinese with me, please speak in English!" Yes, Yangshuo was different. Cafes did offer classes in elementary Chinese, but the lingua franca of the town was English, at times French or other European languages.
During the 1980s, destinations such as Yangshuo, Dali and Lijiang became increasingly popular for Western independent travelers and backpackers, following a route connecting with southeastern Asia. Most were on tight budgets, so relatively cheap accommodation was made available alongside cafes with menus in English offering a range of international "comfort foods". Staff would provide a wealth of information about where to visit, even offering personalized tours to local farmers" homes, train and bus ticket services, and so on. This created an easy alternative for foreign visitors speaking little or no Chinese — it was different from other parts of China at that time. People would regularly stay for lengthy periods, sometimes several months. Yangshuo was laid back, indeed pleasantly enjoyable. It's easy to understand why travelers headed there. The cafes were great places for friendship, and sometimes groups formed for rural cycling expeditions.
Prev Button
Next Button