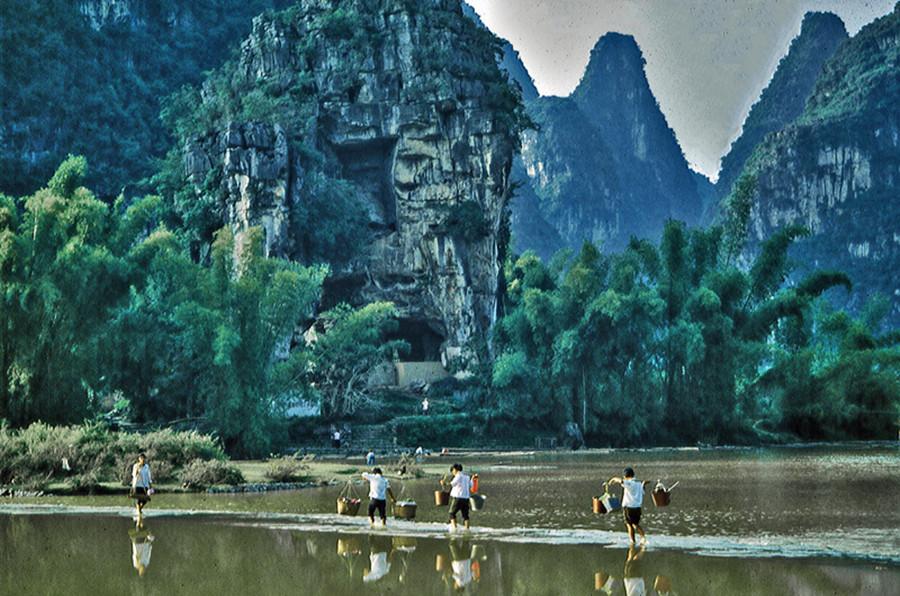 Ford at Big Banyan Tree 1993. (Photo by Bruce Connolly/chinadaily.com.cn)
The Yangshuo area, with its stunning karst landscape, winding rivers, seemingly timeless villages and clean air, along with many unique dining opportunities, has today transformed into a premier tourist destination. In order to cater to this growing market, now predominantly domestic, a seemingly unlimited number of luxury resorts and distinctive boutique hotels have opened. However, foreign travelers on their adventure circuit still pass through, enjoying off-road cycling, rock climbing, bamboo river rafting or simply sitting at a cafe and letting time gently slip away. A small river runs through the Old Town — today, smart-balconied restaurants and bars increasingly overlook the scene.
Tourism-related facilities have greatly expanded since my visits in 1993 and 1999, but of course so have the crowds and prices. In the early days, particularly cycling beyond urban Yangshuo, I often felt I was the only visitor, it was my own "heaven on Earth". The recent tourist boom has of course come at a cost — certainly within the town now there's not much space for quiet solitude; rapidly increasing car numbers detracting from the joy of cycling; generally prices are more. However, recent policies such as creating pedestrian-only streets, countryside cycleways and designating certain scenic spots as "no-go" areas for cars is helping maintain some balance.
Prev Button
Next Button