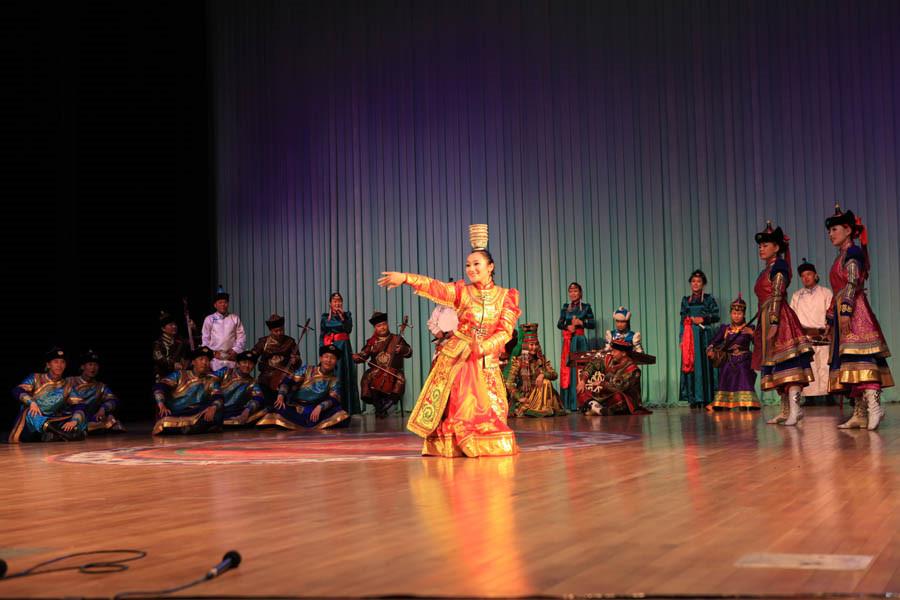 The Ordos Otog Banner Ulan Muqir troupe has a wide repertoire that includes folk music and dance. It has reached out to audiences in big cities, such as with its latest show in Guangzhou. (Photo provided to China Daily)
Now, there are 75 Ulan Muqir troupes in Inner Mongolia, bringing 7,000 performances to audiences of the region each year.
According to Zeng Han, the director of Press, Publication, Radio, Film and Television Administration of Ordos, there are six Ulan Muqir troupes in Ordos today, with each troupe staging at least 100 performances every year. Due to the weather condition, the troupes usually tour villages of Inner Mongolia in the summer.
"Because the size of an Ulan Muqir troupe is small, each artist is versatile. They sing, dance and play instruments. With the goal of serving the people living in remote areas, they also help herders do housework and even offer musical training to children," says Zeng, adding that government offers a subsidy of 2,000 to 5,000 yuan ($300-757) for each show.
"In the past, members of Ulan Muqir troupes toured around by riding horses and the herders offered them accommodation."
Ren Jianshe, the deputy director of the Ordos Otog Banner Ulan Muqir troupe, says: "Being a member of the Ulan Muqir troupe is a great honor. For people of Inner Mongolia, Ulan Muqir symbolizes celebrations."
Ren, 40, was born in Inner Mongolia's Chifeng city and joined the troupe in 2004. Ren's father, who plays sihu (four-stringed fiddle), introduced him to music as a child.
Prev Button
Next Button