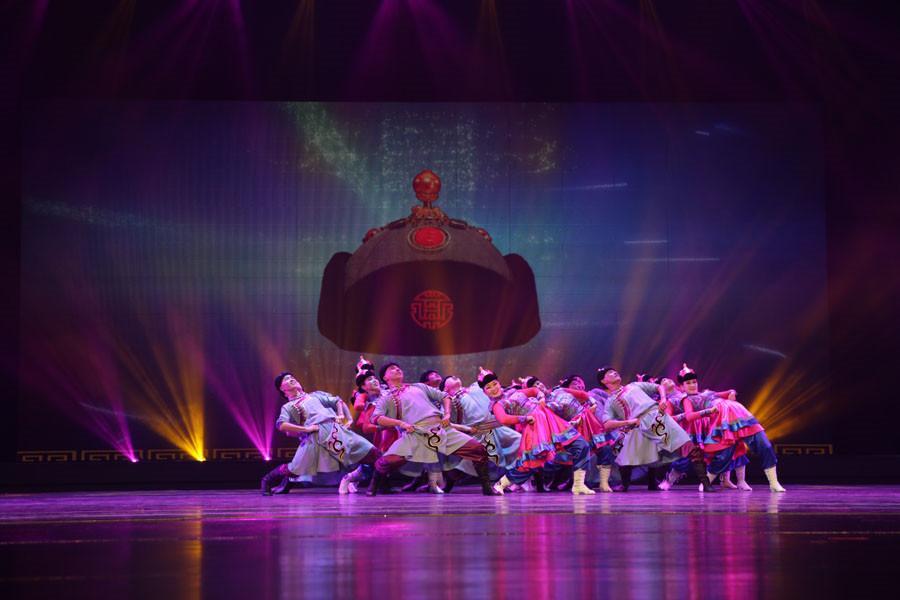 The Ordos Otog Banner Ulan Muqir troupe has a wide repertoire that includes folk music and dance. It has reached out to audiences in big cities, such as with its latest show in Guangzhou. (Photo provided to China Daily)
Inner Mongolia's Ulan Muqir troupes seek to preserve traditional folk music.
When Hasieerdeni thinks of his childhood, the 32-year-old man who was born in a nomadic family and grew up on the grasslands in Inner Mongolia autonomous region, says he always recalls the performances by Ordos Otog Banner Ulan Muqir, a local singing and dancing troupe.
"Every summer, I sat on the grasslands along with my family and many other people living nearby to watch their performances. When the singers from the troupe performed folk songs in the technique of khoomei ("throat singing"), the sound was so deep that it almost touched my bones," Hasieerdeni, whose name means "valuable jade" in Mongolian, says in Guangzhou.
"They performed for days in our village, from sunrise to sunset, and I dreamed of becoming like them one day."
Decades later, Hasieerdeni has fulfilled his dream. He now plays the morin khuur (horse-head fiddle) and sings using the technique of khoomei. He joined the Ordos Otog Banner Ulan Muqir in 2012 after graduating from the National University of Mongolia in Ulaanbaatar.
Prev Button
Next Button