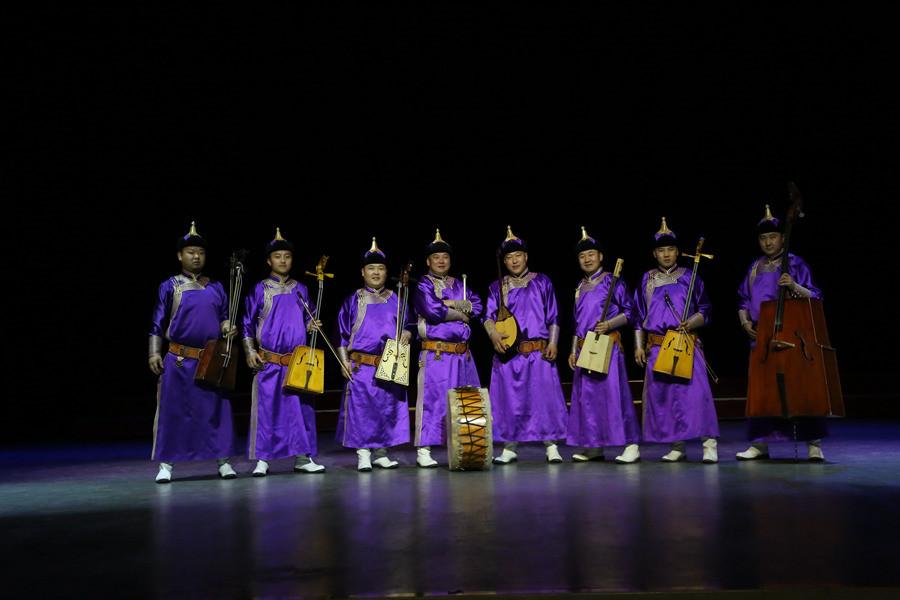 The Ordos Otog Banner Ulan Muqir troupe has a wide repertoire that includes folk music and dance. It has reached out to audiences in big cities, such as with its latest show in Guangzhou. (Photo provided to China Daily)
He performed with another eight artists from the troupe at the Guangzhou Opera House on Dec 12. The song he performed is called Chinese Zodiac, which is based on a renowned Ordos folk song of the same title. The song is about a 12-year cycle of animals representing the Chinese zodiac.
Ulan Muqir, meaning "red bud" in Mongolian, is a rare type of cultural troupe from Inner Mongolia.
Its small groups of singers, dancers and instrument players tour rural areas and travel afar to perform free shows for farmers and herders. The troupes were first founded in 1959 as one of the earliest cultural groups of Inner Mongolia.
In a letter dated Nov 21, President Xi Jinping wrote to a troupe calling on its members to preserve the tradition of Ulan Muqir and promote artistic innovation.
"In the new era, I hope you can carry forward the fine tradition of Ulan Muqir, put down roots and serve the herdsmen," Xi wrote in the letter. The Ulan Muqir troupe, which Xi wrote to, is called Sunite Right Banner Ulan Muqir, the first Ulan Muqir troupe founded in 1957, which celebrates its 60th anniversary this year.
Prev Button
Next Button