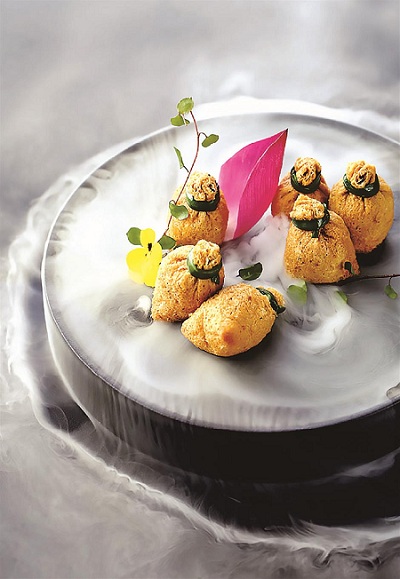 Black Truffle and Mushroom filled in Bean Curd Sheet Wraps (Ti Gong)
Luxury brand Shanghai Tang introduced its restaurant extension in 2009 at its Xintiandi boutique, inheriting the same spirit advocating traditional Chinese aesthetics and modern Chinese lifestyle.
Lately, a much bigger and impressive Shanghai Tang restaurant opened its door on the Bund, located inside the BFC Bund Center, offering a more privileged location to its diners.
The 1,400-square-meter, 200-seat venue was designed to respect Shanghai Tang's original concept, with the uses of daring colors and a creative approach to blend Asian and Western aesthetics. A sensory experience hits you as soon as you walk through the entrance and down its long corridor to the dining hall decorated with bold colors and eye-catching artworks.
Both the big dining hall and 11 private rooms feature amazing riverfront views and Pudong skyline. An ultimate dining experience from the design, lighting to the views, has been meticulously created to present a new era of Shanghai Tang dining. It also features a bar/lounge room for more intimate moments and a tea room will be created soon as well.
The Shanghai Tang menu takes pride in Shanghai flavors. Black Truffle and Mushroom filled in Bean Curd Sheet Wraps (88 yuan/US$13.4) and Crispy Pork Neck Slices with Caviar and Vegetable Roll (198 yuan) are delicious.
The black truffle and mushroom filling has this season's irresistible earthy aroma, while the crispy pork neck appetizer offers a well-balanced dish regarding both textures and flavors.
The must order main dish is the Slow-Simmered Marbled Beef (298 yuan) with the famous Shanghai-style caramelizing dark red sauce. The meat was extremely tender and delicious, one of the all-time favorites among Shanghai Tang's customers.
Though the menu focuses largely on the local cuisine, it also features some of China's widely-known classics, such as Roasted Duck (258 yuan), commonly known as Peking Duck.
During lunch time, the restaurant offers a different menu specializing in dim sum, and simple dishes such as noodles and dumplings in order to provide a decent yet easy-going lunch spot for nearby office workers.