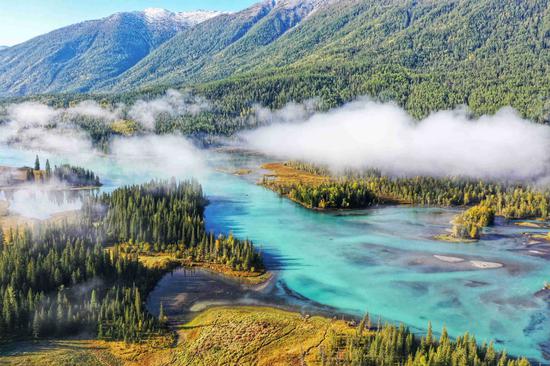 A view of the Kanas Lake, located in the valley of the Altai, Xinjiang Uygur autonomous region. (Photo provided to China Daily)
The Xinjiang Uygur autonomous region, renowned for its natural beauty, is a dream holiday destination for many people.
As such, Xinjiang will further develop its tourism industry to attract more visitors and develop the sector into a pillar industry to support regional development.
In 2019, Xinjiang received a record 200 million tourist visits after measures to maintain social stability had taken effect, according to Shohrat Zakir, the region's chairman. He added that despite the COVID-19 outbreak, Xinjiang received 158 million tourist visits last year.
According to the 14th Five-Year Plan (2021-25), the number of visitors is expected to reach 400 million by 2025.
Visitors to the region that covers one-sixth of China's territory are stunned by the range of natural landscapes, such as grassland, deserts, snow-capped mountains and alpine lakes. It is often said that one can find every kind of natural scenery in Xinjiang, except ocean views.
Visitors can also get a taste of the cultures of the region's various ethnic groups. Xinjiang is divided by the Tianshan Mountains, and lifestyles differ vastly between the north and south.
In the north, tourists can roam the grassland on horseback. In the south, they can start their day by drinking a cup of tea with members of the Uygur ethnic group at local tea houses.
Xinjiang has been a cultural melting pot since the days of the ancient Silk Road. As a result, it is home to 14 ethnic groups, including Uygurs, Kazaks, Kyrgyz people, Tajik people, Hui and Han.
The regional government aims to make southern Xinjiang a tourist destination that showcases the ancient Silk Road's heritage and ethnic culture. Meanwhile, it will build tourist clusters in the Altay Mountains in northern Xinjiang, the Tianshan Mountains and the border areas.
The government will also continue to boost tourism during winter, which is traditionally the low season for visitors to the region.
On May 27, the Xinjiang People's Congress, the regional legislature, passed a regulation to boost tourism. The regulation, which will take effect on July 1, aims to solve key issues that have hampered the development of tourism.