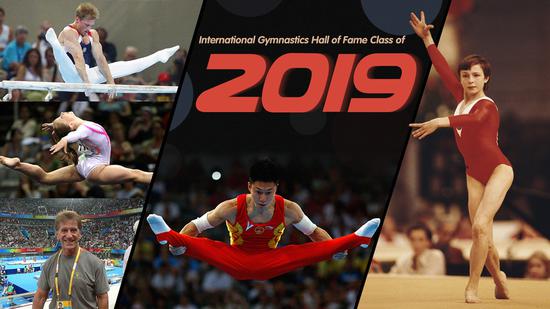 Ivan Ivankov (upper L), Shawn Johnson (C, L), Hardy Fink (lower L), Li Xiaopeng (C), Maria Filatova (R). /CGTN Photo by Liu Shaozhen
Chinese gymnastics legend Li Xiaopeng will be inducted into the International Gymnastics Hall of Fame (IGHOF) on May 18 along with four other great figures of the sport, the Hall of Fame announced on Monday.
"The 2019 IGHOF honorees include some of the most famous, and influential, names in the history of our sport, so this year's ceremony promises to be especially exciting and inspiring," said Bart Conner, Chairman of the IGHOF board.
Li Xiaopeng won five Olympic medals, including four gold in Sydney and Beijing, as well as 11 world championship medals, before retiring in 2009.
Alongside Li, the IGHOF Class of 2019 also includes Shawn Johnson of the U.S., a four-time Olympic medalist in Beijing and 2007 all-around world champion;
Maria Filatova from the former Soviet Union, a two-time Olympic and world champion between 1976 and 1981;
Ivan Ivankov from Belarus, who won his first world championship medal in 1993 and added another 10 to his trophy cabinet over the next decade, including two all-around titles;
And Hardy Fink from Canada, who has been Director of Education & Academy Programs for the International Gymnastics Federation for 40 years.
The 23rd annual IGHO ceremony will be held at the Petroleum Club in Oklahoma City.
Over the past 22 years, 99 gymnastic celebrities from 22 countries and regions have been inducted in the Hall of Fame, including names like Vera Caslavska, Nadia Comaneci, Olga Korbut, Mary Lou Retton, Nikolai Andrianov, Sawao Kato and Vitaly Scherbo.