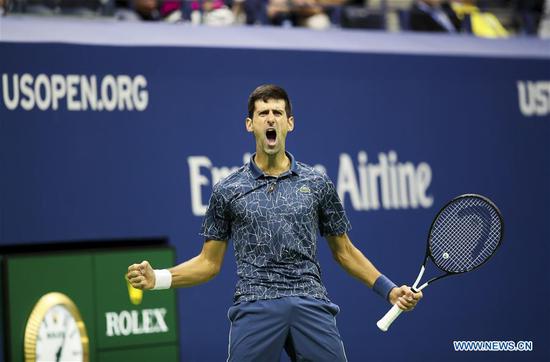 Novak Djokovic of Serbia celebrates scoring during the men's singles final match against Juan Martin del Potro of Argentina at the 2018 US Open tennis tournament in New York, the United States, Sept. 9, 2018. Djokovic claimed the title by defeating Juan Martin del Potro of Argentina with 3-0 in the final. (Xinhua/Wang Ying)
Former world number one Novak Djokovic from Serbia beat third seed Juan Martin del Potro from Argentina in straight sets to claim his third U.S. Open title on Sunday night.
Djokovic, the sixth seed, tamed the Argentine big artillery 6-3, 7-6(4), 6-3 in three hours and 15 minutes.
This is Djokovic's second straight Grand Slam singles title this season following his triumph at Wimbledon and also his 14th overall, which ties American legend Pete Sampras for third all-time, trailing only Roger Federer's 20 and Rafael Nadal's 17.
"I want to say Pete, I love you, you're my idol," said Djokovic of Sampras after winning the final.
"To the support of the loved ones, my kids, my wife, and my team that have been there with me through difficult times as well," added the Serb, who underwent elbow surgery after the Australian Open in January.
With the victory, the Serb improved his head-to-head record against Del Potro to 15-4 in career and won all five encounters in Grand Slam events.
Del Potro, meanwhile, was competing in his second Grand Slam final, having defeated Federer for his maiden crown at the 2009 U.S. Open.
"I'm very sad for being a loser today," said Del Potro. "But Novak deserved to take the trophy. He played a great match, very smart game. I had my opportunities during the second and third set."
"But I was playing almost at the limit all the time, looking for winners with my forehands, backhands, and I couldn't make it because Novak was there every time. He's a great champion. So I'm glad for him."