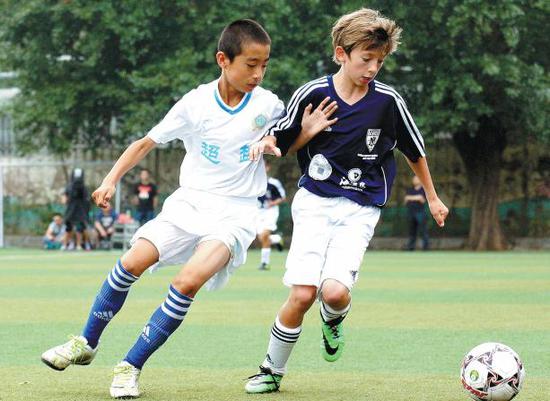 Young soccer players from Dongbeilu Primary School in Dalian and the Mercer Island United club in the United States play a friendly game on July 30, 2014. (Photo by Zhang Xiaomin/China Daily)
Special: World Cup 2018
China is stepping up efforts to improve its school soccer program so that it may one day realize its World Cup dreams.
Solid progress on China's national school soccer program over the past three years bodes well for the quest, while more support in facilities and training expertise would help beef up the effort, the Ministry of Education said.
"The number of students practicing soccer consistently on campus has significantly increased, and so has their level of play over the past three years," said Wang Dengfeng, director of physical education, health and arts education at the ministry.
"It's still about investing, planning and upgrading facilities and support over the long term with patience and dedication. It's too early to harvest the returns," he said at a recent meeting to review the program's outcome.
The key task this year for the program-which was launched in 2015 after President Xi Jinping's wish for China to host and win the World Cup inspired many- is to build 40"rising star" youth training camps across the country with each of the facilities to be staffed by foreign and Chinese trainers and funded by central and local financing, the ministry said.
A set of video tutorials featuring 20 standard training sessions each semester has been produced based on PE classes currently taught at pilot soccer schools in Shanghai and will be distributed to schools around the country as training guides for grades 1 to 9.
The program has helped about 20,000 schools offer a soccer-specialized physical education curriculum-up from fewer than 5,000 in 2014. Another 30,000 such schools will be built by 2025, while 10,000 new pitches will be constructed in the next three years, the ministry said.
The central government has invested 680 million yuan ($102 million) to support the program, making it financially the biggest PE development project in the country's history, Wang said.
However, the ministry acknowledges issues remain as the country lags behind world powers in high-quality training staff and expertise.
A picture taken at a primary school in Henan province in 2015 following the launch of the program-showing students doing aerobic drills with the ball in their hands instead of at their feet-prompted heated debate online over the shortcomings of coaching.
"As the program reaches deeper and wider, more qualified training staff and knowhow become critical to guarantee quality over quantity," said Li Chunman, a professor of athletic training at Beijing Sport University.
"The training of coaches and competition management staff needs to be upgraded as well, by combining the Western experience with our own situation," said Li, a member of an expert panel consulting on the program.
With help from local authorities and some commercial soccer academies, the program will hire more youth trainers from overseas this year, adding to the 360 foreign coaches currently working in China to offer stronger support, according to the ministry.
Central and regional sports and education authorities have trained more than 230,000 PE teachers and youth soccer coaches, with technical support from the Chinese Football Association. More than 1,000 of those graduates benefited from three-month training programs in European soccer strongholds such as France and Britain.