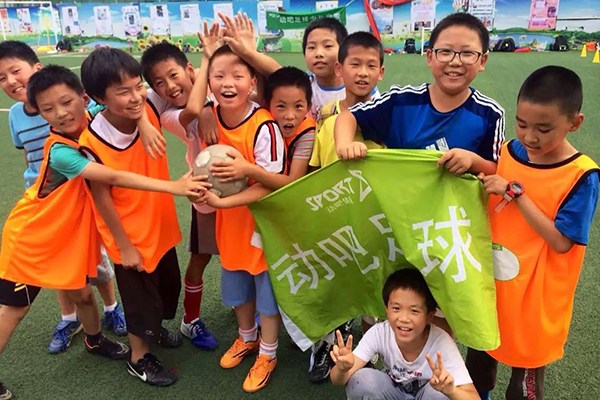 A group of children pose for the camera during a training session organized by Sport8 in Beijing. (Photo provided to China Daily)
Soccer's top governing body in China has vowed to expand the sport in schools and introduce more foreign coaching expertise as the country aims to boost the game's profile at all levels.
A total of 120 foreign youth coaches will work in China to instruct student players and train local teachers, with financial support from the government, the Chinese Football Association announced on Sunday.
The move comes as high-profile foreign players make headlines by joining Chinese league clubs for high transfer fees.
As part of the national soccer reform plan announced in March last year, the CFA will continue to cooperate with the Ministry of Education this year to improve soccer education through the foreign coaches. The association and the ministry agreed at a meeting on Sunday to review the plan after a year.
China has hired another 146 foreign trainers working in 29 provinces and autonomous regions to support local training staff members, said Wang Dengfeng, vice-president of the CFA and director of the Education Ministry's Physical Education, Health and Art Department.
"Combining modern foreign experience with Chinese methods, we can produce soccer training curricula adapted to Chinese students," Wang said.
Inspired by President Xi Jinping's desire to see China qualify, host and eventually win the FIFA World Cup, the country's educational authority has expanded a four-tier school league system, which operates from primary schools to colleges, to 16,186 schools at all levels, with mandatory weekly soccer courses.
The system is expected to include up to 50,000 schools specializing in soccer by 2025, according to the reform plan.
As China's soccer revitalization ambitions attract world attention, international stars including Brazilian striker Alex Teixeira and his midfield compatriot Ramires have joined the Chinese Super League for lucrative transfer fees. Both play for Jiangsu Suning.
Chinese clubs' spending of more than $360 million in the global transfer market topped world transfer outlays this winter, according to industry website Transfermarkt, based in Germany.
However, renowned youth soccer coach Jin Zhiyang said more funding should be focused on youth training, especially training local coaches, to keep this development sustainable.
"The spending spree in professional leagues has attracted public attention, but the most urgent investment should be in improving facilities and coaching for youth development," Jin said.
Wang said the Education Ministry would train 6,000 more school officials and teachers to specialize in soccer education, as well as 5,000 coaches working at grassroots levels this year.