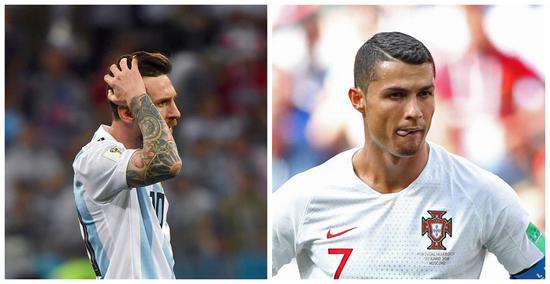 Left Photo: Lionel Messi of Argentina reacts during the 2018 FIFA World Cup Group D match between Argentina and Croatia in Nizhny Novgorod, Russia, June 21, 2018. Right Photo: Cristiano Ronaldo of Portugal reacts during a Group B match between Portugal and Morocco at the 2018 FIFA World Cup in Moscow, Russia, June 20, 2018. Portugal won 1-0. (Xinhua)
Special: WorldCup2018
The endless debate between Real Madrid's Ronaldo and Barcelona's Messi rumbles on as both players try to etch their name into World Cup history. A rivalry that has haunted the strikers – arguably the best duo to come out of the 21st century – throughout their respective club careers and continues to follow them in Russia. But as we progress into the second round of fixtures, there's no denying one is coming out on top.
The image of Messi furrowing his brow and rubbing his forehead intently during the national anthem before Argentina's game against Croatia on Thursday may prove to be the defining one for a player who buckled under World Cup pressure.
And pressure there is with Messi carrying the hopes of 44 million people desperate for Argentina to relive the glories of 1978 and 1986. Unlike Portugal, who were not a football powerhouse before Ronaldo and won't be after, Argentina have a rich history in the World Cup with two titles and two further appearances in the final under their belt. Few teams have made such an impact on the competition as the Albiceleste. 
After losing three consecutive finals in international tournaments, Argentina expect a lot of their star man as they look for Messi to emulate the performances of what was arguably all-time great Diego Maradona, who played in four World Cups.
But the 3-0 defeat by Croatia means Argentina's fate in Group D is now out of their hands; they need results to go their way to stay in the competition. In a game that they were struggling to make a mark on, Argentina needed just one moment of inspiration and had the player capable of providing it.
However, Messi, who carried his nation to qualification for Russia almost single-handedly, has not shown the ability to do the same when it mattered most and after he saw his second-half penalty saved against Croatia, Argentina's fate was sealed. At the final whistle, he could not get off the pitch quickly enough – appearing weighed down - his spirit crushed with the burden of expectation when playing for his nation.
It was much of the same story against Iceland, which saw Messi miss a penalty and the chance to give Argentina the edge, ultimately leading to a humiliating 1-1 draw against a side much their inferior. The Argentine skipper has a reputation for missing penalties. He now missed four of the last eight penalties for Club and country – the most notable during the defeat by Chile in the Copa America final in 2016 during a penalty shootout. After which he withdrew from international football only to be dragged back to the team after pleas during the 2018 World Cup qualifiers.
There is no denying Messi is one of the greatest footballers there has been or ever will be, but portrayed as a humble and at times reclusive character – does he have the force of personality to handle the pressure of an entire nation on his shoulder. His confidence does not seem quite as secure as his Portuguese equivalent.
In comparison rival Ronaldo has thrived under the weight of expectation to lift a team of mortals to greater heights and score four goals in two matches for Portugal, including a thrilling hat-trick against Spain. Perhaps he has more of a personality that suits - and even at times enjoys - this type of challenge. Even when Ronaldo's form eludes him, as it certainly did at the previous two World Cups, his belief in his brilliance never waivers nor does his obsessive fixation on gaining a permanent place in football's history.
Messi's club form, in contrast, has never been under scrutiny, excelling for Barcelona in three different positions: outside-right, false nine withdrawn center-forwards and this season as No. 10 playmaker. His career-long allegiance to Barcelona has meant lifting every trophy available with his club, winning La Liga nine times and the Champions League on four occasions. While Ronaldo at Manchester United and then Real Madrid won five league titles (three in the English Premier League and two in La Liga) plus five Champions League titles.
It is a fight that has been played out since 2008 when Ronaldo won his first Ballon d'Or award, given to the world's best player. In the years since he and Messi have lifted it five times each, and no one else has got close to standing in the way.
The battle on the pitch is matched by battles for followers on social media with the biggest stars have hundreds of millions potential customers that brands with little connection to football want to reach. Chinese dairy company Mengniu is one of a number hiring Messi to appear in World Cup adverts. 
The superstar has currently six sponsorships with annual endorsement earnings up to 32.7 million US dollars that also includes Chinese smartphone maker Huawei Technologies. While Ronaldo annual endorsement earnings from 12 companies amount to over 36 million US dollars. The 33-year-old star has a three-year endorsement deal with Chinese emerging luxury SUV brand Wey.
Despite a trophy cabinet of silverware and multi-million US dollar sponsor deals, neither Messi nor Ronaldo have ever won a World Cup, and as both players edge towards the wrong side of 30, it could be one of their last chances. Although Argentina hasn't been performing to the standard football history dictates, it's not too late for Messi at Russia and if the striker can replicate his club form on an international setting – there won't be anyone stopping him – not even Ronaldo.