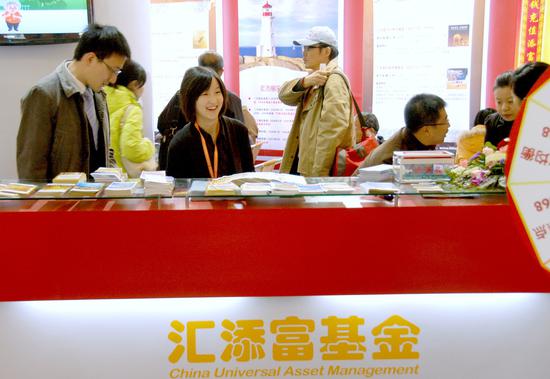 A fund manager from an asset management company oversees brochures about various financial products, to be given away to prospective individual investors, at the company's stall at the 7th Money Fair held in Shanghai earlier this year. (Photo provided to China Daily)
Regulatory nod for Chinese asset management firms deepens financial opening-up
Within days of receiving regulatory approval, six Chinese asset managers have succeeded in raising an estimated around 300 billion yuan ($46.36 billion) this month for hybrid funds that will invest in certain securities of unicorns (or startups with a valuation in excess of $1 billion).
Each of the six asset managers launched a three-year hybrid fund, money for which has been raised from retail investors as well as institutional investors.
The pilot funds have an upper limit of 50 billion yuan each. A sales director at one of the six asset managers said the six hybrid funds are believed to have grossed less than the maximum permissible collective amount of 300 billion yuan.
The six hybrid funds will invest mainly in the Chinese Depository Receipts or CDRs of unicorns listed in overseas markets.
CDRs are similar to American Depositary Receipts or ADRs-the certificates allow investors to hold shares listed across national borders.
The six asset managers are E Fund Management Co Ltd, Harvest Fund Management Co Ltd, China Merchants Fund Management Co Ltd, China Southern Asset Management Co Ltd, China Universal Asset Management Co Ltd and China Asset Management Co Ltd.
The hybrid funds will also invest part of their corpus in newly listed unicorns, treasury bonds, local governments' treasury bonds and AAA-rated corporate debt.
Market observers said the move to allow asset managers to invest in CDRs heralds acceleration of China's opening-up in the financial services industry. The move will also help stabilize the stock market, they said.
Among the six asset managers, China Merchants Fund Management received about 25 billion yuan for its hybrid fund.
Either China Merchants Fund Management or E Fund Management may top the list in terms of money raised for the hybrid funds, market sources said.
Individual investors were able to subscribe to the hybrid funds between June 11 and 15, while institutional investors finished their subscriptions on June 19.
Each individual investor was allowed to invest up to 500,000 yuan in each hybrid fund. Institutional investors had no upper limit.
Subscriptions were funneled through sales channels offered by banks and securities brokerages.
The lock-in period for each hybrid fund is three years. The funds would be eventually listed on stock exchanges as openended, which means investors can trade their shares.
"It's a key sign of China further opening up its financial services industry," said Tang Yao, an economics professor at the Guanghua School of Management at Peking University.
Tang said investors had concerns that CDR-issuing unicorns might deflect big money from the A-share market, hurting liquidity.
"The launch of the three-year hybrid funds could be a measure to boost liquidity in the A-share market and lend more stability to the capital market," said Tang.
Dong Dengxin, a finance professor at the Wuhan University of Science, said hybrid funds with lock-in periods are an innovation by Chinese asset managers.
"Long-term funds can play an important role in reducing market volatility and ensuring satisfactory investment returns for investors," said Dong.
The Chinese mainland has 78 unicorns listed on US and Hong Kong bourses. Another 120 unlisted unicorns are engaged in sectors like internet-based finance, automobile, hardware and entertainment, according to a report from GF Securities.
Chinese technology firm Xiaomi has been the first unicorn to apply for CDRs. But the Beijing-based smartphone and appliance maker has sought to postpone its CDR issue. Its application was originally scheduled to be reviewed by China's securities regulator on June 19.
Industry experts said escalating trade tensions between the United States and China, and China's deleveraging moves, have affected stock-market sentiment, so Xiaomi may be thinking the current period is not the best time to launch its CDRs.
China has been keen that overseas listed Chinese firms, especially tech majors such as Tencent Holdings Ltd, Alibaba Group Holding Ltd, Baidu Inc, JD and NetEase Inc, should not ignore the domestic A-share market. The introduction of CDRs was seen as a way to link such companies and local investors.
Zhang Dongke, deputy general manager of the Shanghai Stock Exchange, said earlier this month that the bourse has done the preparatory work needed for the CDR pilot program.