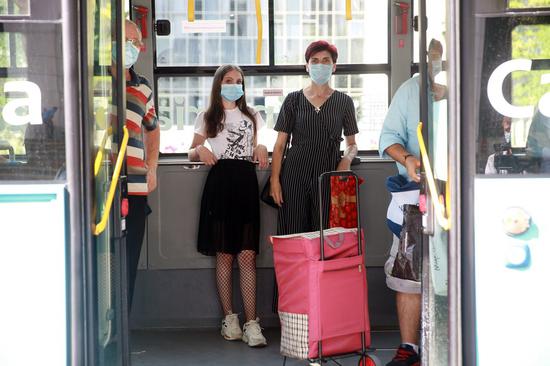 Passengers wearing face masks are seen on a bus in Bucharest, Romania, on August 1, 2020. Mask-wearing is being made mandatory in crowded outdoor public places in nearly half of Romania starting Saturday. (Photo by Gabriel Petrescu/Xinhua)
Special: Battle Against Novel Coronavirus
Mask-wearing is being made mandatory in crowded outdoor public places in nearly half of Romania starting Saturday, as over 1,000 new COVID-19 cases have been confirmed daily for almost two weeks in the country.
After authorization from the central government on Wednesday, the capital city of Bucharest and 19 of the nation's 41 counties have decided to implement various restrictions, most of which went into effect on Saturday.
Most counties stipulated that masks must be worn in open-air public places such as bazaars or other open-air markets.
Many cities put forward mask-wearing regulations for some streets or areas where restaurants and other entertainment outlets are concentrated during certain hours.
In some severely affected cities, including the capital, the authorities stipulated that open-air bars and restaurants should close no later than 23:00.
Seashore county Constanta, the most popular summer destination in the country, formulated regulations specifically for seaside areas, requiring people to wear masks at beaches, promenades, amusement parks, and other places where a safe distance cannot be ensured, from 18:00-24:00 every day.
In some counties, although the epidemic is not the most serious, more stringent prevention and control measures have been announced. For example, Iasi County in the northeast stipulated that citizens must wear masks when they go out from Aug. 1 to 14.
The latest official COVID-19 tally showed that 1,225 new cases and 36 deaths were recorded in the last 24 hours in the country. So far, Romania has registered a total of 52,111 cases and 2,379 deaths, while 27,346 people have recovered.