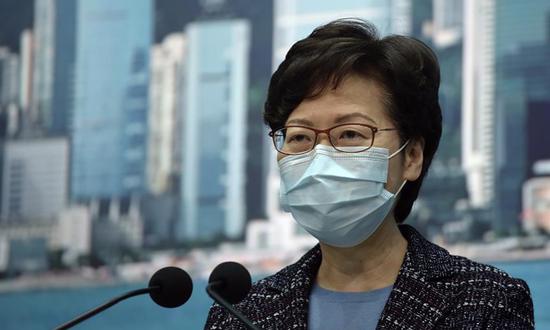 File photo of Carrie Lam. (Xinhua)
Chief Executive of the Hong Kong Special Administrative Region (HKSAR) Carrie Lam defended her decision to postpone the city's Legislative Council (Legco) election on Saturday, saying that the decision was based on the objective development of the epidemic, without political considerations.
The government must also consider the rights of voters stranded overseas, she added in an interview with broadcaster TVB.
"We estimate that there are hundreds of thousands of people stranded in the mainland or overseas. If we continue the election under the severe epidemic, and people are worried about the risk of infection, more than 7 million people in Hong Kong may be harmed," she said.
The chief executive added that opinion polls showed that more than half of the public supported the postponement and believed that the foundation of public opinion on the decision was solid.
Asked if she was worried about being sanctioned by Western countries, Lam said these countries have used the postponing of elections as a pretext to attack Hong Kong but her administration has a response plan.
The election for the seventh-term LegCo members of the HKSAR, originally scheduled for September 6, 2020, will be postponed for one year.
Hong Kong has seen a resurgence of COVID-19 outbreak since early July. A total of 1,852 additional COVID-19 cases were reported between July 8 and July 30, up 140 percent from the total number of cases recorded over the previous six months.