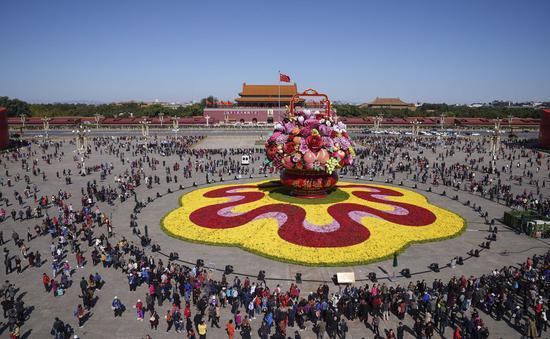 Tourists watch basket-shaped flower beds at Tiananmen Square in Beijing, China, October 14, 2019. (Xinhua/Yin Gang)
Beijing on Monday published a detailed draft plan for its core area to solicit public opinions in the coming month.
The core area of the capital, including Dongcheng and Xicheng districts and covering an area of 92.5 square km, will be endowed with the functions of the country's political, cultural and international exchange center.
The plan gives priority to the protection of the city's numerous cultural heritages including underground archaeological ruins, historic streets and parks, ancient alleyways, revolutionary historic sites and waterways.
Demolition in the core area is also prohibited to sustain the historical layout of the ancient capital, the draft plan showed.
The plan underlines that the area is more than a political center, but also an ancient capital city with rich cultural heritage, said Yang Baojun, head of the China Academy of Urban Planning and Design.
In order to better promote traditional local culture and tourism, 10 touring routes will be designed across the city to offer tourists a glimpse into Beijing's diverse culture and landscape.
The plan intends to improve the living environment of residents by allocating more land for building public service facilities.
The ratio of public space areas will be raised from the current 34.4 percent to 38.9 percent, according to the plan, which cover the period from 2018 to 2035.
More high-quality resources in education, nursing homes and health service will be deployed outside the core areas, to provide more balanced services to citizens, the plan says.
The draft plan will accept suggestions and opinions from the public until Jan. 28, 2020.