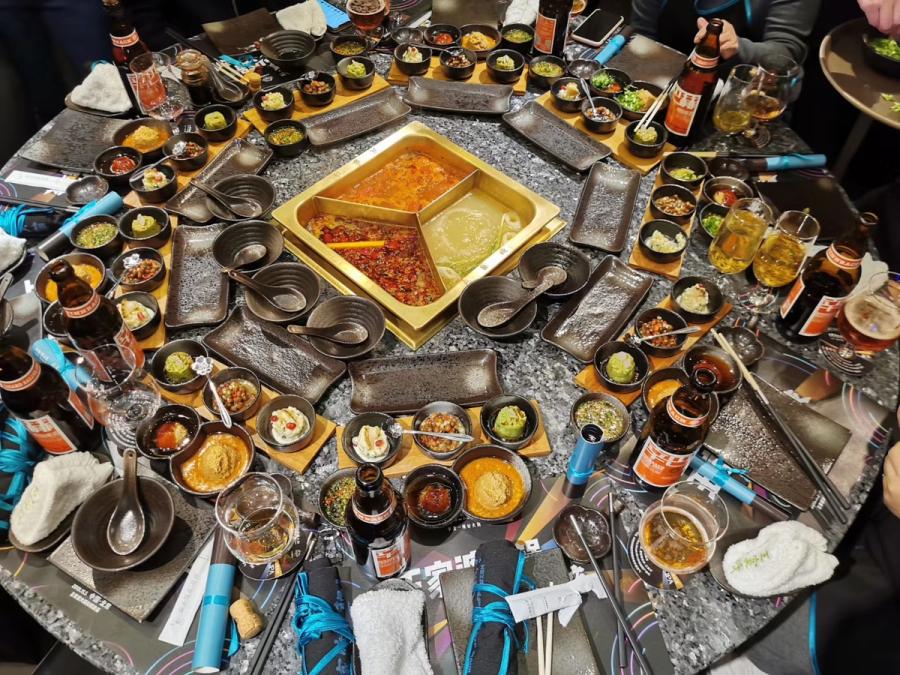 The Wangjiadu hotpot chain offers an authentic taste of Sichuan province in Beijing. (Photo provided to CHINA DAILY)
Diners relish wide variety of styles
Zhou Yaxuan, 22, is a fan of the Beijing hotpot restaurant Wangjiadu. She said she especially likes it in winter, and she's a big fan on the restaurant's sesame sauce, which has the consistency of ice cream.
Zhou, an accountant, said she also likes the eatery's fresh tripe and tries to remember the waiters' instructions to dip the organ meat up and down in the steaming liquid seven times to get it done just right.
The tripe Zhou had recently came out crisp and tender, in part because it had arrived fresh in Beijing that day from the Xinjiang Uygur autonomous region.
Thanks to advances in logistics, transportation and cold-storage technology, hotpot is no longer a seasonal choice, but can be enjoyed throughout the year in China. Faster delivery services and more do-it-yourself options mean it is now being eaten more frequently.
Last year, the country's hotpot market reached 875.7 billion yuan ($125.2 billion), one-fifth of the total catering sector, according to the China Restaurant Industry Survey released by the China Hospitality Association in July. Since 2014, the hotpot market has grown by more than 50 percent.
Of all hotpot restaurants in China, 57 percent focus on cuisine from Sichuan province and Chongqing, according to a report on diners' preferences released in October by online food delivery and ticketing services platform Meituan Dianping.
Hotpot served in these restaurants features either an authentic spicy soup base or chuan chuan, where the ingredients are placed on a skewer to boil in the soup.
Wang Kun, brand manager for the Wangjiadu hotpot chain in Beijing, said it is bringing the authentic taste of Sichuan to the capital, with the aim of attracting a white-collar clientele.
In addition to the beef tallow soup base from the province, special pork luncheon meat and fresh tripe are popular at the chain's restaurants.
"Each season, we bring in traditional ingredients from Sichuan to Beijing-including bamboo in springtime and freshwater fish in the autumn," Wang said.
"The sesame sauce is our specialty and includes dried shrimp and stewed mushroom."
Chuan chuan hotpot restaurants are favored by the younger generation. They are usually cheaper than those offering Sichuan hotpot, and evolved from roadside food stalls.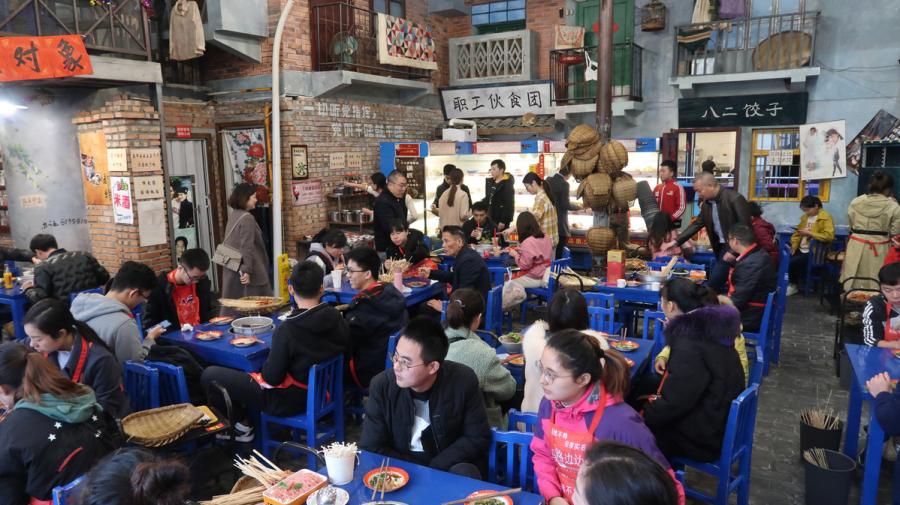 A restaurant run by the Malubianbian chain does good business. (Photo provided to CHINA DAILY)
Malubianbian, which translates as "side of the road", is a chuan chuan hotpot restaurant chain, where the average cost per person is 80 yuan. Founded just three years ago, the business now has more than 800 restaurants nationwide, mainly targeting a younger clientele.
Hu Jun, a co-founder of the chain, said it did not expect to expand so rapidly.
The restaurants are decorated in a style that takes diners back to the 1970s and '80s, Hu said. The decor features three main elements: interior streetlamps; wallpaper covered in graffiti; and blue chairs. In each city, the graffiti is localized.
"We also ensure that our dipping sauce has the authentic flavor of Chengdu (the capital of Sichuan) by adding a spoonful of soup to the minced chili and peanut, rather than sesame oil with garlic sauce or minced chili, pepper and salt."
Hu said the company's branches never compromise when it comes to the food they serve. "We only serve a spicy-flavored soup base, which can bring back childhood memories."
He thinks the spiciness of Sichuan hotpot is a particular attraction for diners, and this ensures repeat business.
Hu said that in Chengdu people sometimes waited in line at a Malubianbian restaurant for up to six hours, adding, "Now, as we have opened more branches, the lines aren't that long," The company also has branches in the United States, Australia and Malaysia.
In northern China, lamb is the preferred choice for hotpot. In the Michelin Guide Beijing 2020, released on Nov 28, no stars were awarded to a hotpot restaurant in the city, but two won Big Gourmand accolades and another two won Michelin Plate ratings.
A Big Gourmand is awarded to restaurants judged to be both good quality and value by a team of assessors, while a Michelin Plate indicates that quality food is served.
A Michelin Plate went to Beijing's Yangdaye Shuanrou restaurant, which translates as "Uncle Yang's Mutton Hotpot".
Cai Shihong, 63, who is known as Uncle Yang, opened the restaurant in 1996. Only the meat from a lamb's back legs is traditionally used for the hotpot, but Cai decided to feature different parts of the animal.
He said that during his childhood in the 1960s, the mutton for hotpot was carved by a chef. "It was so thin that people could read the words of a book through a single slice," Cai recalled.
In the mid-1970s, the arrival of electric meat slicers meant that mutton could be sliced by machine in hotpot restaurants. "The skill of slicing the meat is actually a culture, and now at my restaurant I am bringing this technique back by serving hand-cut meat," Cai said.
He added that the restaurant serves "yuanyang pot", which consists of both spicy and plain soups. "This is a compromise for younger customers, as it's usually the case that when couples come to my restaurant, the men will have the clear soup to enjoy the mutton, while the women usually want to try the spicy soup," Cai said.
He always considers the younger generation when he updates his hotpot menu.
"People my age used to be picky about all the hotpot ingredients, from the mutton to the fermented bean curd added to the sesame sauce. But now, the younger customers don't care that much about the ingredients-atmosphere is the key," Cai said.
Three years ago, he invented a way of serving the sliced meat on a meter-long wooden board, which was quickly adopted nationwide.
"The board has 400 grams of meat on it. I got the idea when I saw the wooden boards we use to serve beer," Cai said.
His business has moved several times, and each time a new location opens, he considers the decor. Cai recently opened a branch named Aunt Yang's hotpot, which features neon lights to target younger customers.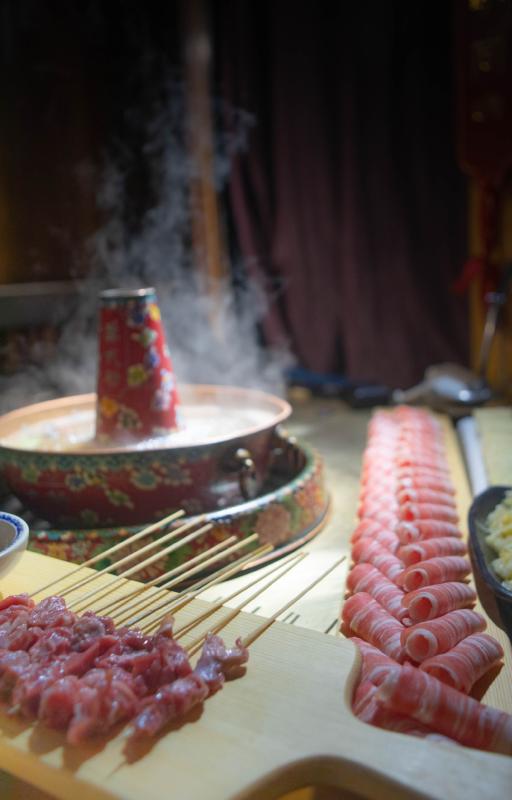 The Yang Da Ye Shuanrou restaurant in Beijing offers good-quality meat. (HE JING/FOR CHINA DAILY)
Hong Kong-style hotpot is also becoming popular in Beijing because of its high-quality ingredients.
Guo Jianxing, executive chef at the Xifenglou Hongkong-style Seafood Hotpot in the capital, said a feature of its fish maw and chicken soup base hotpot is that the soup is tasted first before the other ingredients are boiled.
"The soup is boiled for 10 hours with chicken, pork bone, ham and a 1.25-kilogram, 45-day-old chicken from Qingyuan, Guangdong province. The fish maw is added to the soup after orders are placed, to ensure that the golden-colored soup is tasty and nourishing," Guo, 37, said.
"The soup base is the key. If we don't master a particular soup on the day, that type of hotpot will not be available."
Guo, who grew up in Zhongshan, Guangdong, moved to Beijing 20 years ago. He said fish maw and chicken hotpot has only been available in the city for three years, but has been warmly welcomed by diners in northern China.
"I think they have accepted this Cantonese-style flavor step-by-step. At first, they tried lightly flavored Cantonese dishes, but now they like the hotpot," he said.
"We don't boil the lamb in our hotpot, but add it gradually, as many diners have requested," he said.
Fish, local vegetables and fresh fish maw are sent from Guangdong to Beijing daily. "Some 40 percent of our diners on weekends are families from Guangdong and Hong Kong, and it is traditional for us to have a large Cantonese-style brunch together," he added.
Unlike hotpot using frozen lamb, which is popular in North China, Chaoshan-style hotpot from Guangdong features a soup base consisting of boiled beef balls with radishes and corn.
The beef is accompanied by Shacha sauce, which is made from soybeans, oil, garlic, shallots, chilies, brill fish and dried shrimp, and is savory and slightly spicy.
Jin Yiqi, 25, who works for a bank in Beijing, developed a taste for Chaoshan-style hotpot after making a trip to Shenzhen, Guangdong, earlier this year.
Two years ago, she ate Sichuan hotpot three times a week to "release pressure from work", but now she cares more about the quality and freshness of the ingredients, especially the meat and the flavor of the soup base.
"For spicy-flavored hotpot, you cannot tell if the ingredients are fresh or not, but for Chaoshan hotpot, you can," she said.
Taiwan-style hotpot is a new trend in Beijing, as its spicy soup base is a version of that found in Sichuan, but the spiciness is reduced. The Taiwan variety is always paired with fresh duck's blood and tofu.
Hainan-style hotpot with a coconut and chicken soup base is also becoming popular in the capital. The chicken used for it must come from Wenchang, Hainan province, as it has a particularly thin skin and tender meat.
Yunnan-style hotpot features mushrooms and other ingredients from the southwestern province, along with tofu made in Jianshui county, which is particularly tough. The dipping sauce consists of minced chilies and other spices, which highlight the flavor of the mushrooms.
Hotpot from overseas is also gaining traction in China, such as a sukiyaki and soybean milk-flavored version from Japan and an offering from South Korea based on pickled cabbage.
Tom Yum Kung soup from Thailand is also being used as a new flavor for a hotpot soup base. In Chengdu, the Jiyu restaurant quickly became popular after it introduced this version. Long lines also formed in Beijing, where a branch opened this year.
Jin, the bank employee, said, "Many new hotpot restaurants are opening in Beijing, so I'll read the comments and photos on Meituan Dianping to see if they have any specialties before choosing which one to try."