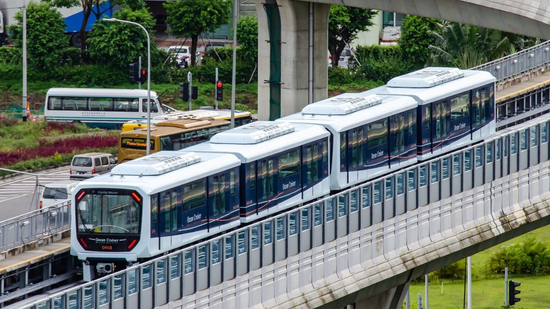 Macao LRT during tests. (Photo Macao government)
Special: 20th Anniversary of Macao Return to Motherland
The Macao Light Rail Transit (LRT) system is the Macao Special Administrative Region's (SAR) 20th anniversary present to all its residents.
At a little past 3:30 p.m. today, the Taipa Line of the LRT will open to the public and, according to the local government, it will be free of charge for residents until December 31.
The tickets prices will range between six, eight, and 10 patacas (0.74, 0.99, and 1.24 U.S. dollars, respectively), depending on the number of stations used. The trains will run from 6:30 a.m. to 11:15 p.m. from Monday to Thursday, and from 6:30 a.m. to 23:59 p.m. on weekends and holidays, every five to 10 minutes.
The LRT Taipa Line is about 9.3 km long and has 11 stations, covering main residential communities in Taipa city center, Taipa old village, and tourist area. It links three major sea, land, and air ports of Macao.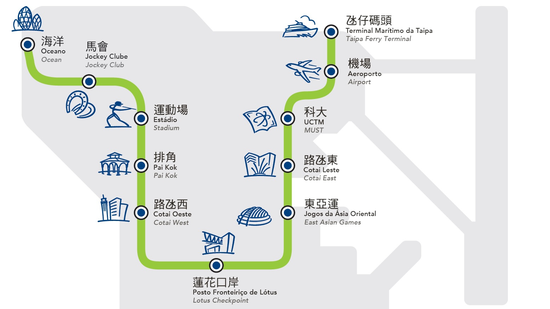 Macao LRT route map. (Photo Macao LRT website)
'Milestone'
The project started to be discussed back in 2002, but only in 2011 did the construction begin. According to the Civil Engineering Laboratory of Macao, the entity responsible for the quality control, this is a "milestone for the development of the region and the civil engineering industry in Macao."
The carriages are unmanned, and the system itself is environmentally friendly, producing low noise during operation and zero emissions.
The initial budget of 11 billion patacas (1.3 billion U.S. dollars) has expanded to 16,4 billion (two billion U.S. dollars) due to several delays and "bumps" in the construction process, but the project is also expanding.
From the main route opening today, the LRT will have a 1.5-kilometer section linking it to the social housing compound of Seac Pai Van, in Coloane. The public tender has already opened.
At the western end of the line, a connection to the Barra station will be built, in the peninsula, which is due to be completed in 2024. Besides, there will also be a connecting section between the eastern end in the New Development Zone A. Another section in the south of the peninsula is also considered.