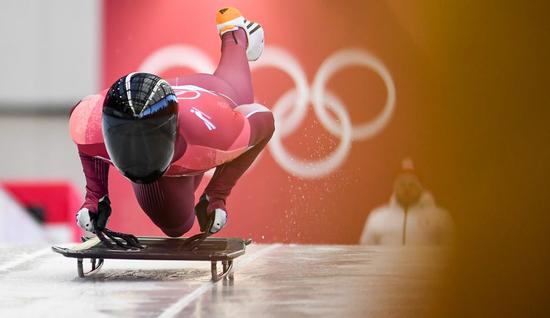 Olympic athelete from Russia Nikita Tregubov competes in the men's skeleton at 2018 PyeongChang Winter Olympic Games at Olympic Sliding Centre, PyeongChang, South Korea, Feb. 15, 2018. (Xinhua/Wang Haofei)
Russia must safeguard the interests of its athletes so that they can fully participate in international competitions despite a massive sports ban, the Kremlin said Tuesday.
"The main thing is to ensure that the interests of our athletes are not violated in any way because of collective responsibility," Kremlin spokesman Dmitry Peskov told a daily news briefing.
He said that Russia has mechanisms to assert its rights as a country and these mechanisms should be used.
On Monday, the World Anti-Doping Agency (WADA) decided to ban Russia from international sporting events for four years, alleging that the Russian Anti-Doping Agency (RUSADA) is non-compliant with the World Anti-Doping Code.
Russian President Vladimir Putin said that the WADA ruling violated the Olympic charter and Russia has every reason to go to court.
RUSADA will have three weeks to appeal WADA's decision to the Court of Arbitration for Sport.