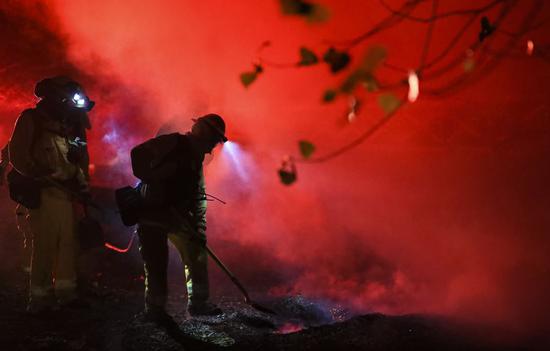 Firefighters work at a fire spot in Santa Clarita, the U.S. state of California, Oct. 24, 2019. (Xinhua/Li Ying)
Many celebrities living in Los Angeles were evacuated Monday morning as an aggressive wildfire near Hollywood is growing fast fueled by strong wind.
Actor and former California Governor Arnold Schwarzenegger, one of the residents who received evacuation order and fled his home, urged others to do the same as the blaze, dubbed Getty Fire, is approaching.
"We evacuated safely at 3:30 this morning. If you are in an evacuation zone, don't screw around. Get out. Right now I am grateful for the best firefighters in the world, the true action heroes who charge into the danger to protect their fellow Californians," Schwarzenegger said via Twitter.
Strong winds pushed the blaze to increase in size at a rapid rate with zero containment, the Los Angeles Fire Department said in the Monday morning update, at least seven homes had been destroyed and about 600 firefighters are battling the blaze.
The TCL Chinese Theatre premiere of Schwarzenegger's film, Terminator: Dark Fate was also cancelled for the wildfire, which was first reported at 1:30 a.m. local time and had scorched over 500 acres (2 square km) in following hours.
"In light of the ongoing, active fires being battled in the area, Paramount Pictures and Skydance have canceled tonight's Los Angeles premiere of Terminator: Dark Fate. We will be donating food intended for the after-party to the American Red Cross, which is serving those affected by the fires," Paramount, one of Terminator: Dark Fate's production companies, said in a statement.
Schwarzenegger's ex-wife Maria Shriver shared his sentiment on Twitter as well.
"Praying for everyone in the path of this terrifying destruction. Thank you again to our firefighters for keeping us safe. If you're in an evacuation zone, please follow the warnings and evacuate immediately. The winds are strong and the fires move quickly," she begged.
Showrunner Kurt Sutter took to Instagram to indicate that he was affected by the fire. Glen Mazzara, the former Walking Dead writer-executive producer, currently working on Amazon's The Dark Tower, tweeted that he'd been evacuated.
"Safe in a hotel room with my family and dogs. Awakened and evacuated by the amazing alert system from #lafd #Grateful #GettyFire," shared actor, director and screenwriter Clark Gregg, who plays Agent Phil Coulson in Iron Man and continuing through Iron Man 2.
News anchor legend Katie Couric, who used to be a television host on all Big Three television networks in the United States, offered her prayers to those involved as she wrote, "Praying for anyone near to the #GettyFire and for the emergency crews working to get it under control - stay safe California."
Television comedy veteran Christa Miller, who has starred in such programs as "The Drew Carey Show," "CSI: Miami," and "Scrubs," revealed a photo of flames looming over her house, and assured followers they had evacuated.
Los Angeles Lakers' superstar LeBron James had trouble finding shelter after evacuating as he wrote at 3:53 a.m. local time, "Man these LA fire aren't no joke. Had to emergency evacuate my house and I've been driving around with my family trying to get rooms. No luck so far!" Fortunately, he tweeted an hour later he had found accommodations and gave thanks to the emergency workers.
"I pray for all the families in the area that could be affected by these fires now! Pretty please get to safety ASAP," LeBron shared, "My best wishes as well to the first responders right now doing what they do best!"