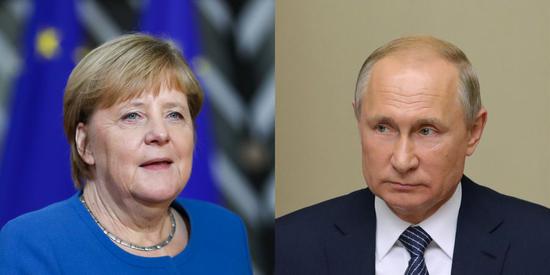 Xinhua file photos of Russian President Vladimir Putin (R) and German Chancellor Angela Merkel
Russian President Vladimir Putin and German Chancellor Angela Merkel had a phone conversation on Monday, during which the two leaders discussed issues related to Syria and the Russian gas transit via Ukraine, the Kremlin said in a statement.
Putin briefed Merkel on the outcome of the talks held on Oct. 22 in Sochi with Turkish President Recep Tayyip Erdogan and agreements reached in order to contribute to the restoration of the sovereignty and territorial integrity of Syria, the statement said.
"According to mutual assessment, the implementation of the provisions of the memorandum adopted by Russia and Turkey will serve to stabilize the situation in northeast Syria, as well as to move forward the inter-Syrian political process, including in the context of the start of the constitutional committee scheduled for Oct. 30 in Geneva," it said.
On Tuesday, Russia and Turkey signed a memorandum of understanding, agreeing on introducing patrolling by Russian military police and Syrian border guards' units on the Syrian side of the border with Turkey outside the Turkish military operation area.
They also agreed to contribute to the withdrawal of Kurdish troops and their weapons 30 kilometers from the Syrian-Turkish border, with a joint Russian-Turkish patrol introduced in a territory west and east of the Turkish operation area.
Putin and Merkel also exchanged views on the continuation of the transit of Russian gas through Ukraine to Europe after the expiration of the relevant contract at the end of 2019, the statement said.
Later on Monday, a new round of trilateral ministerial consultations on the fate of the gas transit agreement between Russia, European Union (EU) and Ukraine is due to take place in Brussels.