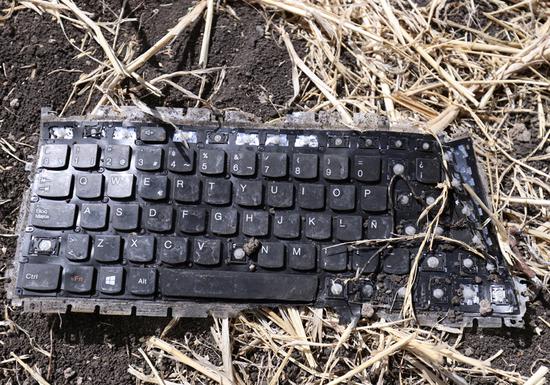 A laptop keyboard is seen at the scene of the Ethiopian Airlines Flight ET 302 plane crash, near the town of Bishoftu, southeast of Addis Ababa, Ethiopia March 11, 2019. Two flight data recorders from Ethiopian Airlines Flight ET302 were found Monday. (Photo/Agencies)
Both the digital flight data recorder (DFDR) and cockpit voice recorder (CVR) on the crashed aircraft that killed all 157 aboard on Sunday have been recovered, Ethiopian Airlines said Monday in a statement.
A Nairobi-bound Ethiopian Airlines flight crashed shortly after taking off from Addis Ababa on Sunday, killing all 157 people on board.
A total of 149 passengers and eight crew members were on the Boeing 737 Max 8 commercial aircraft.
China, Indonesia and Ethiopia have grounded Boeing 737 Max 8 aircraft following the deadly crash on Sunday.
The company on Monday announced that it has indefinitely grounded all Boeing 737 Max 8 jets following the fatal crash as an "extra safety precaution." Chinese aviation regulators have also ordered domestic airlines to suspend operations of all Boeing 737 Max 8 planes.
People from 35 countries were aboard, with Kenyan nationals making up the largest number of passengers on board, 32 in total.
The Boeing 737 Max-8 plane went down at 08:44 a.m. local time, six minutes after taking off.
It's not yet known what caused the crash, but the carrier said the pilot had reported difficulties and asked for permission to return.
After the deadly crash, a Chinese firm, the China Railway Seventh Group (CRSG), assisted in the rescue work by quickly mobilizing large-scale equipment.
The search for bodies is still underway and the "black box," the jetliner's flight data recorder, or black box, has not been found yet.
Who are the victims?
According to the breakdown of nationalities given out by the airline and a Kenyan transport official, 18 Canadians and nine Ethiopians were killed, as were eight passengers each from China, Italy, and the U.S.
Britain and France each had seven people on board, Egypt six, the Netherlands five and India four. Four were UN passport-holders.
The airlines also said four people were using UN passports and it's not yet clear what their nationalities were.
Chinese Foreign Ministry confirmed that eight Chinese nationals were among the dead including one from Hong Kong.
00:29
What happened?
The flight ET302 lost contact at 8:44 a.m. local time around Ethiopia's Bishoftu town, six minutes after taking off from Addis Ababa's Bole International Airport at 8:38 a.m. en route to the Kenyan capital.
The plane was reportedly delivered to the airline four months ago.
Swedish flight-tracking website flightradar24 said on Twitter that the crashed aircraft, a Boeing 737 MAX 8 "had unstable vertical speed" after taking off.
Boeing said it will provide technical assistance to the investigation.
Following the incident, the first word came from the Ethiopian Prime Minister's office, which posted a condolence message on Twitter.
The country will observe a national day of mourning on Monday.
Kenyan President Uhuru Kenyatta later tweeted, "My prayers go to all the families and associates of those on board."
Kenya's Deputy President William Samoei Ruto also said he's "saddened" by the news.
The Boeing 737 MAX 8 is the same type of plane in the Indonesian Lion Air jet crash which killed the 189 people on board in October last year.
Ethiopia Airlines has a reputation of being one of the best airlines in Africa, boasting a good safety record and the newest fleet of planes on the continent, according to its website.
The last major crash involving an Ethiopian Airlines passenger plane was in January 2010, when a flight from Beirut went down shortly after take-off, killing 83 passengers and seven crew members.
(With inputs from agencies)