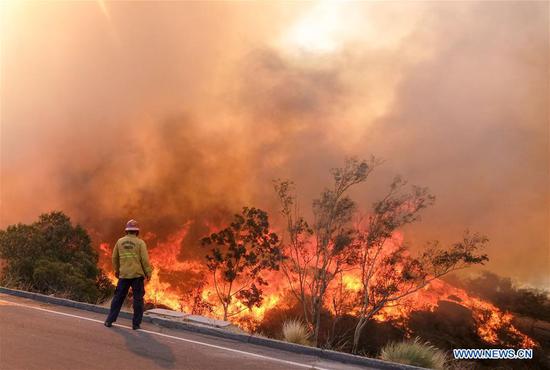 A firefighter keeps watching the wildfire burning near a freeway in Simi Valley, California, the United States on Nov. 12, 2018. The fire in Southern California continued to destroy homes. (Xinhua/Zhao Hanrong)
Death toll from the raging Camp Fire in the U.S. state of California has increased to 48 as rescuers continue to search for missing residents in and around the town of Paradise, local authorities said Tuesday.
An additional six bodies were discovered Tuesday in the town, which had been almost totally burned down by the deadest fire in the state's history, said Butte County Sheriff Kory Honea at a daily media briefing.
All the six victims were found in their homes, the officer said.
More than 200 people were still missing as a result of the fire and the name list would be published soon, said Honea.
He also said the recovery teams were using "cutting-edge technology" to identify the badly-burnt bodies.
According to local media, a Rapid DNA-analysis system was setting up in the decimated town, which was equipped with portable devices that can identify someone's genetic material in hours, rather than days or weeks it takes to test samples in labs.